Every social media platform has a golden era. Both Facebook and Twitter hit our screens back in 2006, but it wasn't until Instagram's launch in 2010 that really started to change the game. And the platform has been dominating ever since.
But when it comes to generating business online, today the most power is none other than LinkedIn. A platform built for generating leads and building business relationships like no other.
LinkedIn has been building up momentum in the last decade with now over 303 million active monthly users. More and more people are spending less time on Facebook and Instagram as a means of building core business relationships, getting in front of the right people and winning more clients.
Why? Because they understand that LinkedIn is where they need to be, so naturally people are spending more time on it. But are they actually leveraging it properly?
There is one underlying challenge that is experienced amongst many in the LinkedIn community, and that is, being able to extract value from the platform in the best way possible. Especially when it comes to understanding how to target the right audience. So, we thought why not write an article detailing the exact steps you need to take, regardless of whether your audience is B2B or B2C to start leveraging LinkedIn successfully.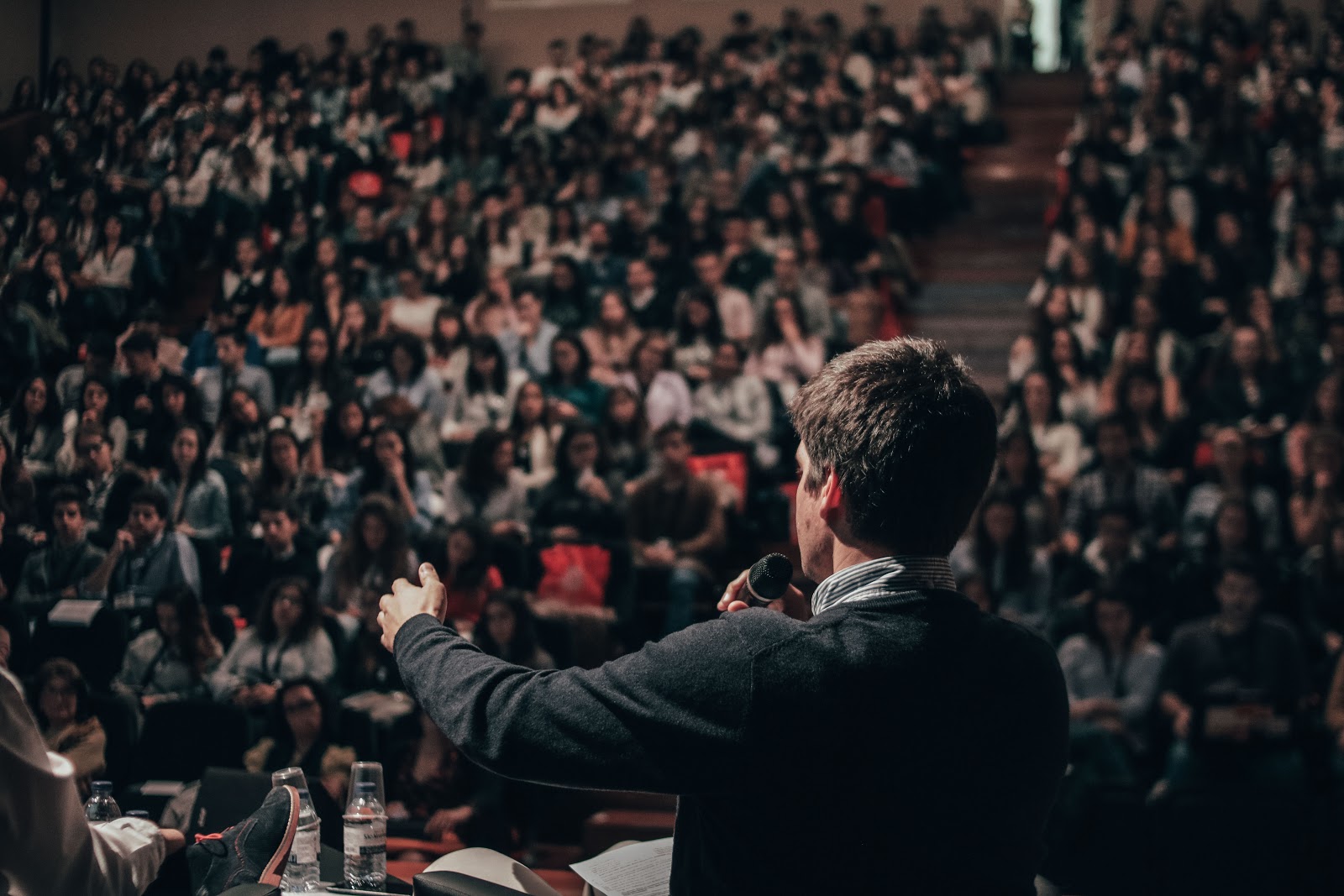 But before we get into that, it's important to understand a few key elements you'll be needing to build the right foundation. First and foremost, you need to know who you are looking to get in front of. To do this, there are 5 metrics to consider.
1) Location
2) Company Size
3) Seniority Level
4) Title
5) Industry
No point putting a game plan in place if you don't know who it is you're looking to connect with. Once you've identified who you're targeting, you then need to start flushing out your outcome on LinkedIn.
After educating over 20,000 people in the past 6 years what we've come to learn is that most people on LinkedIn just don't have an outcome. Without a clear direction, it's virtually impossible to build influence and have an impact on those you're trying to get in front of. And you simply won't be able to build valuable long-term relationships that have purpose.
Remember, if you fail to plan you're planning to fail. So have a think about this now, write it down and then continue reading on. Now that you know your outcome and know exactly who you need to be targeting, here are the three best ways to get in front of that audience.
Lead Generation

The power of LinkedIn when used in the right way is a game changer. With now over 575 million members on LinkedIn and over 50% of them being key decision makers, it's really important to start taking advantage of the opportunities the platform has to offer. As it gives you world wide access to a rolodex of business contacts at your fingertips without having to spend a cent on advertising or marketing.
To do this you will need Sales Navigator, a premium LinkedIn tool that allows you to drill down from the 10M plus members in Australia to the 5,445 Lawyers you're looking to target in Melbourne who are owners/partners of small/medium size companies. Once you've signed up you simply input the 5 metrics we mentioned earlier and this will create your saved search of targeted leads.
From there start sending out personalised connection invitations Monday to Friday followed up with a private message the week after to anyone who accepted your invite but didn't reply. At the same time start engaging with your target market's content, another amazing feature within Sales Navigator. 
This alone, when executed successfully, will open up anywhere between 10-15 conversations per week. It's important to note that this strategy is only effective on LinkedIn if your target market is B2B.
Joint Venture Partnerships

The second strategy is joint venture partnerships, a process of finding where you clients are going before, during and after your service. Then connecting with those businesses to create win-win partnerships. A strategy that is effective whether you're targeting the B2B or B2C space.
For example, when our Founder Alex launched his advisory firm, he was looking to connect with accounting firms on LinkedIn. Why? Because he was targeting small business owners and most of them were using accountants before they came to Alex for their business advisory needs. Knowing this, he got clear on the type of accounting firm he wanted to partner using the 5 metrics we outlined earlier and started connecting with them.
Within a few months of leveraging this strategy he managed to connect with over 500 firms which generated over 70 phone calls and 35 meetings. From these meetings, he landed partnerships with 17 accounting firms and managed to scale his advisory firm to four full time advisors within 6 months. 
Seems pretty simple right? It is, if you go with the mindset of wanting to add value to the company you're looking to partner with and their clients.
If all you're looking to do is just sell more products then this is the wrong mindset. Sure, we all want to sell more, but for this strategy to work it's all about finding the right partners, not just any partner because they have your target audience. Start thinking about who an ideal partner looks like and then use Sales Navigator to connect with them.
Media

With that said, this brings us to the 3rd and final strategy, media exposure. A strategy that can be deployed regardless of whether or not your target audience is B2B or B2C.
With 94.2% of journalists and editors on LinkedIn it's an unbelievable opportunity to build out your personal or company brand. And there's never been a better time because most journalists right now are facing 3 main challenges: 
1) Sick and tired of press releases
2) Don't have access to key experts
3) Extremely time poor
By you connecting with them and becoming a go-to source for industry knowledge and key introductions it's a great way to build relationships with those in the media. In order to execute this strategy, start by writing down 3-5 major publications you would like to be featured in. This can be publications your target market are using to source business information or well known brands that are well respected within the business community. 
Once you've done this, go onto those publications and find the relevant section that relates to your industry. This will bring up a list of articles that are written by journalists relevant to your business.
Look for the name of the journalist, copy and paste this into the search box of LinkedIn, visit their profile and send a personalised connection invitation. When they connect with you, look at ways on how you can add value to them. Don't pitch your business or service, this is the mistake many make and as such they ruin the relationship before it even starts. 
Using this strategy, our founder Alex Pirouz managed to get featured in over 60 media publications in a little over 6 months. These include Forbes, Fortune, Huffington Post, Business Insider and many others.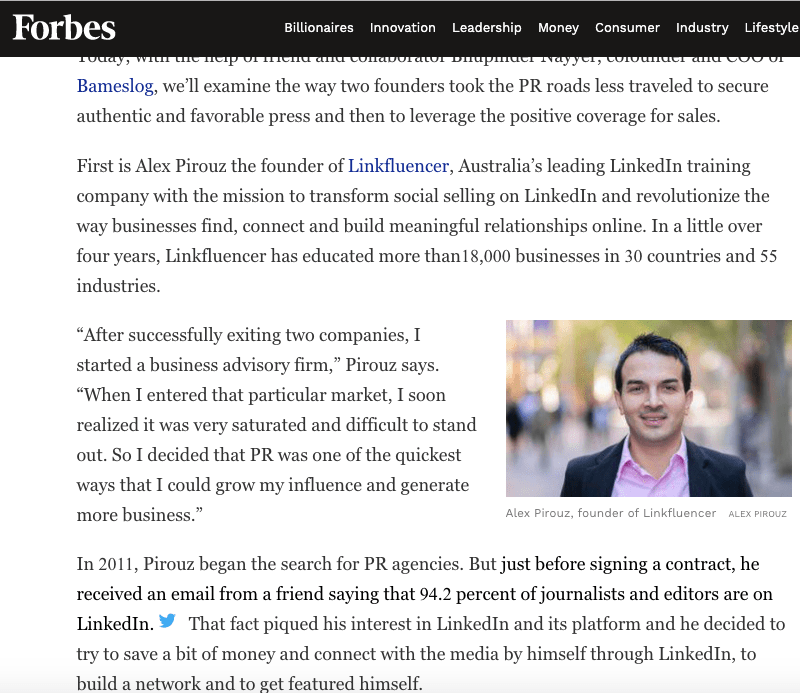 Now that you know the 3 ways to leverage Linkedin there's only one thing left to do: TAKE ACTION. You can't just learn everything there is to know about LinkedIn, you have to execute on them.