In February last year, LinkedIn gave every member in the U.S. the ability to publish posts on LinkedIn – and the response was swift and enthusiastic. In fact, just recently, LinkedIn reached more than one million posts.
Now since LinkedIn wants each one of more than 500 million members to be able to share their insights with other professionals across the globe, they've taken another big step toward that goal as they expand the ability to publish on LinkedIn to all members in English-speaking countries. That's 500 million users around the globe who can now tell their stories, show their expertise, and express their ideas on LinkedIn.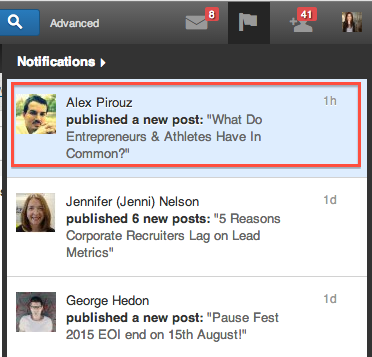 Becoming a publisher on LinkedIn can be a powerful way to reach your target market and generate new leads. The new platform promises to match the blog's topic with users who share an interest in that particular vertical. It also gives you greater exposure to your current network given every blog you post is distributed to their news feed and displayed within their notification settings located at the very top of their LinkedIn profile.
If your contacts like the article and decide to share that on LinkedIn, Facebook or Twitter… This will not only create greater exposure but those who aren't connected with you; may like your work that much that they end up "FOLLOWING" you to receive future posts helping you create a following of raving fans for years to come!!
Our founder Alex's blog post results so far: 
– Appeared on the homepage of LinkedIn 4 times now
– Reached over 128,000 blog views and 1000 comments
– Shared more than 20,193 times
– Generated over 430 leads
– Increased his following by an extra 2,300
Here's a screenshot of a few articles he has written:

How to know if you've been approved to publish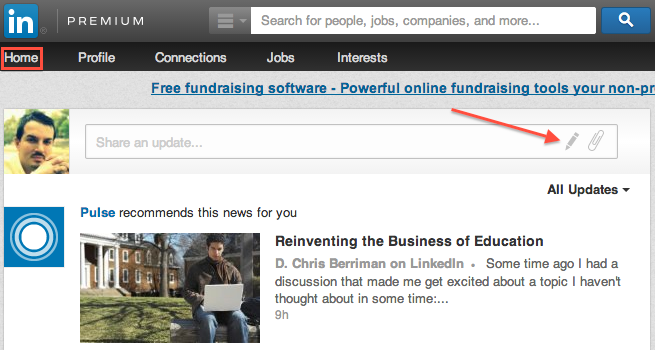 To know whether or not you've been approved to start publishing content, simply go to your LinkedIn account. If you've been approved there will be a grey pencil icon on the status box at the top of your home page as illustrated in the image to your right.
If this pencil icon is not displayed, it means that they have not rolled out the publishing feature to your account. Not to worry, simply email their customer service team and request an upgrade to your profile so you can start publishing on LinkedIn.
Publishing your blog is really easy
Simply go to the home page of your account, hover over the pencil icon we showed you earlier. When you do this it will reveal the text "create a post". Once you've clicked on the link, it will then direct you to a page where you will see a blank blog post ready for you to populate with your headline and main copy.
Start by thinking about your headline! Make sure it's short, sharp, and compelling. Once you have your headline figured out, go ahead and write your copy. We find generally anywhere between 500-700 words is a good length.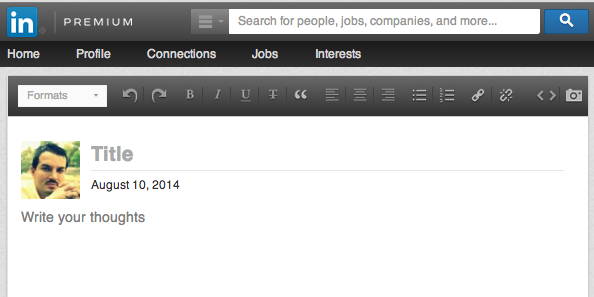 Given that any content you publish on LinkedIn is going to be associated with your profile (and be visible to your network), you will want to ensure that the content you publish on LinkedIn is of the highest quality. Your LinkedIn profile, after all, is your professional online identity.
That means your reputation is at stake. Don't publish anything that could jeopardize or harm your reputation. Plus the better the content and the more compelling your headline, LinkedIn may end up featuring your article on one of the categories within the "Pulse" network or better yet feature it on the home page giving you visibility to over 500 million members worldwide.
6 Things To Consider Before Publishing
1) Best Dates and Times:
Generally, we have found Sunday, Monday and Tuesday morning between 8am-9am is the best times to post. We should note that these times are based on AEST, you may want to test out your own time zone to see what works well for you.
2) Importance of Quality Content:
We touched on this briefly before but the better and more valuable your content the greater impact you will make on your existing and new followers.
3) Preview Your Content:
Before publishing your post always make sure to preview your work. This will allow you to see whether or not your text is aligned with any pictures or videos you have inserted, if headings are properly spaced out and if your article is properly laid out, etc.
4) Include Videos & Images:
Break up your text with images and videos so that people don't get information overwhelm when they first visit your blog. Always make it a habit of listing a few tips or provide a how to guide within a section of the blog. Most people will skim through your article, so this is a great way to provide quick rich content.
5) Ask Questions: 
Doing this demonstrates your genuine interest in feedback. It also makes it an interactive opportunity that encourages participation. Simple questions like "do you agree?" or "how have you seen this done?" are a call to action that can start the ball rolling.
6) Check the Analytics:
LinkedIn gives you great analytics to show you the success of your articles. This gives you a great opportunity to pay attention to which types of articles are getting the most views, comments, and social shares.
Following the same suggestions listed above, below is a screenshot of a blog Alex wrote on LinkedIn. Within 1 hour, it was featured on the home page and stayed as the top story within the "Entrepreneurship & Small Business" category of LinkedIn's Pulse network for an entire day helping him reach over 9,000 views and over 100 comments.

Now that you know what steps are required to start blogging on LinkedIn, hopefully it inspired you to get your next article out there for the whole world to read. You never know, your post may start that conversation with your next investor or business partner; it may get you noticed by others in your company or industry and help enhance your reputation as a thought leader. But most of all, it may simply help others.
Developing great content that gets engagement and turns followers into raving fans takes skills that are not created overnight. Our founders content gets hundreds of thousands of views, comments, and likes each and every month. This then results in hundreds of opportunities whether that's leads, partnerships, and speaking engagements that come from that content.