After 18 months of blood, sweat, and tears we've finally launched our much talked about and anticipated software, Jayla. Although we can't shut up about her, I'm sure the question on everyone's lips is who really is Jayla and what does she do?
Well… she's a Google Chrome extension designed to help you simplify your lead generation and management on LinkedIn. As your personal sales assistant Jayla will: 
1️⃣ Guide you on how to develop an effective profile that converts 
2️⃣ Help you identify your target market 
3️⃣ Automatically remind you to follow up with leads 
4️⃣ Manage your contacts through an inbuilt CRM 
And she even provides reports to let you know how well your campaign is performing! The only thing she won't do is your tax returns but we're working on that. 😂
The best part of Jayla though is that there is no leave loading, holiday pay, set hours, etc. She's a web application that's available for work 24/7 anywhere, anytime you need her. 🙏
Not to mention, you don't need to watch countless videos on how to use LinkedIn or spend hours sifting through private messages. In fact, because everything is so automated and streamlined, you aren't stuck spending hours and hours on the platform every day!
Now that Jayla is out there in the world, we've put this blog together to run through the key functions of the software so you know exactly what to expect and how it can help you grow your business. Click here to learn more! 😊
Strategy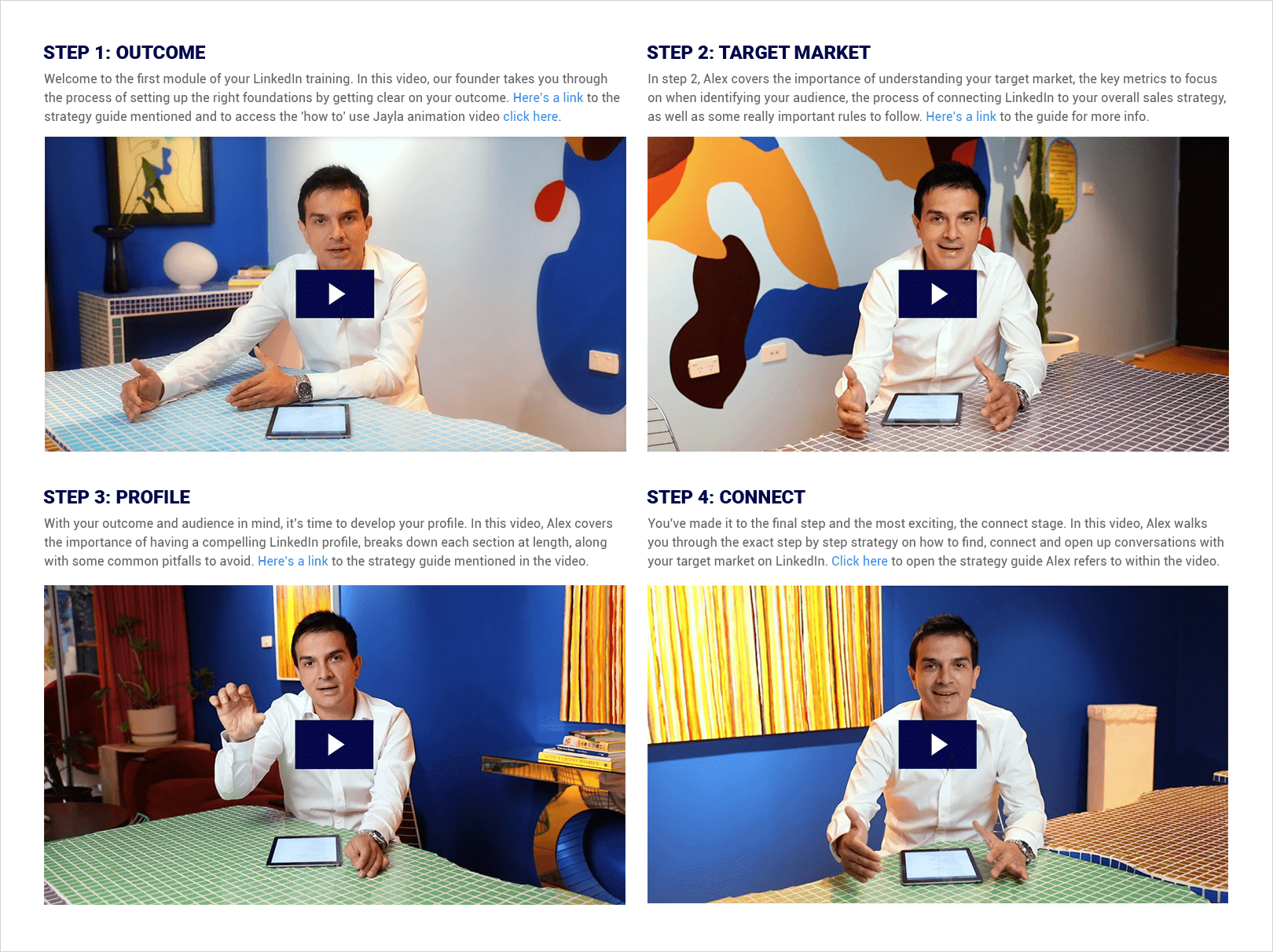 With over 700+ million members, the growth and evolution of LinkedIn is undeniable. But even though there are a lot of people on the platform and engagement is at an all time high, the main challenge that most users still face is how to actually leverage it in a way that generates quality leads and sales opportunities efficiently.
This mainly comes down to not knowing where to start, uncertainty around what resources are needed to launch a successful campaign, and what processes need to be put in place so that the campaign is executed consistently. This is where Jayla steps in; to reap the full benefits of using the software the first thing she'll help you develop is a bulletproof strategy, that way there will be opportunities for her to help you manage. 😅
In the training you'll learn the importance of being crystal clear on your outcome, how to develop a LinkedIn profile that converts, the process of finding your target market and how to turn those connections into meaningful conversations. Because let's face it, you can have the best software in the world at your fingertips, but without a good profile, a solid audience and an understanding of how to turn connections into sales opportunities there's literally no point.
Management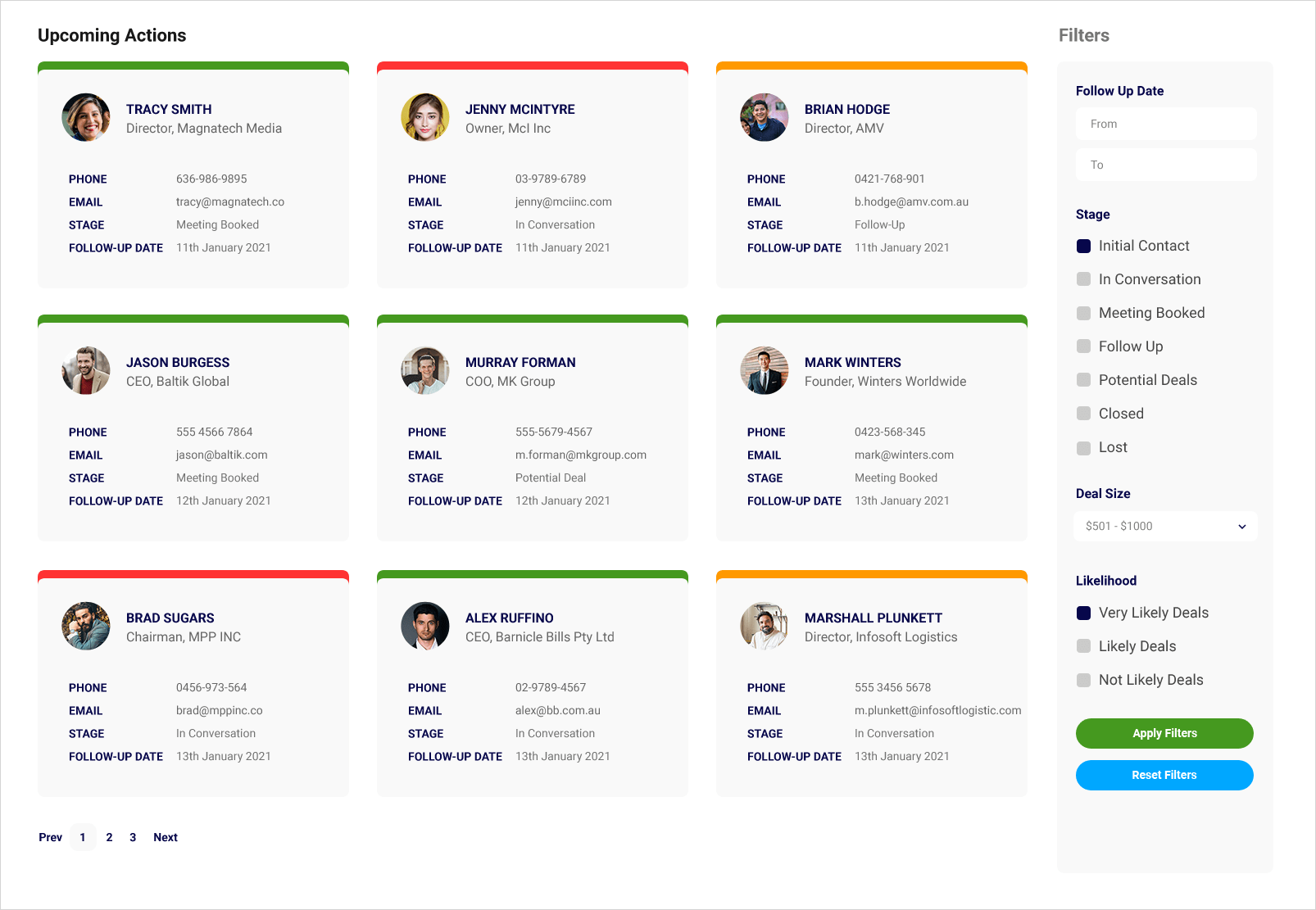 Once you start implementing your strategy, this will open up some conversations with your target market. At this point, you want to stay on top of your sales opportunities so they don't get lost in your inbox or you forget to follow up. 
So you're not spending hours and hours of time using spreadsheets, poster notes, calendar reminders, etc Jayla actually sets you automated reminders to follow up prospects you're in conversation with.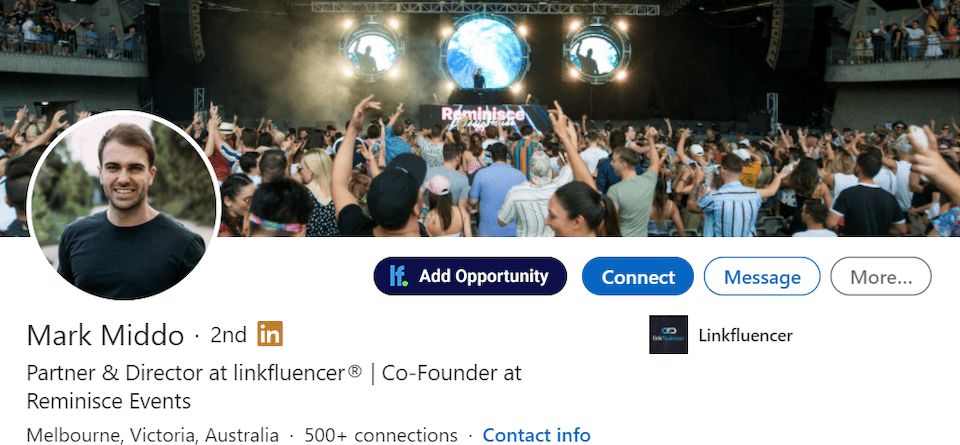 To do this you will need to add the opportunity into Jayla and set the date for when you want her to remind you to follow up. This can be done on your prospect's profile or within your inbox. All you need to do is click on the buttons that read 'Add Opportunity'.
This will then take you to your Jayla account where you can put in key information about that prospect like the deal size, follow up date, opportunity stage, leave notes about your conversation and so much more.
Jayla will then email you or send you browser notifications when that opportunity is ready to be contacted based on the date you've chosen for the follow up. Pretty cool right? 😎
The software is all about automating your follow ups and simplifying the management of them. That way you'll never lose an opportunity again and avoid wasting time inputting them into your CRM when they aren't warmed up yet. Follow this link to learn more and apply for access today!
CRM

You're probably celebrating with a bottle of champagne now that you FINALLY have your strategy down pat and you're on top of those sales opportunities – yay!
But don't party too hard just yet because it's about to get a lot better. 😏 If you're a regular LinkedIn user, you'll be able to painfully recall the days when you would spend hours and hours trying to find that contact you were meant to follow up two weeks ago.
Well, you can wipe those memories away for good 🙏 What's been missing all this time is a CRM functionality where you can manage your deal flow and sales pipeline simultaneously.
Jayla is a gateway CRM designed to help you manage all of your opportunities on LinkedIn, warm them up to become a lead, and track the progress beyond. From there you can either input the lead into a separate CRM or use Jayla as your CRM. We're also working on a way we can potentially connect Jayla to your own personal CRM too which is very exciting!
Most people don't have immediate visibility of all their opportunities and how far along each lead is in the sales process. At the click of a button, Jayla gives you a quick overall snapshot of what your entire pipeline looks like based on the various stages of your sales process.
Inside the dashboard, you can also search for prospects based on specific criteria. So for example, you might want to search all the deals you've got in the pipeline between $5-$10K in Spain that are coming up over the next two weeks to decide whether it's worth taking the trip.
Okay maybe this example is better for pre-covid days…but you get the drift! So forget about signing up for expensive CRMs if you're a solo or start-up business – you have everything you need right here. 👊
Reporting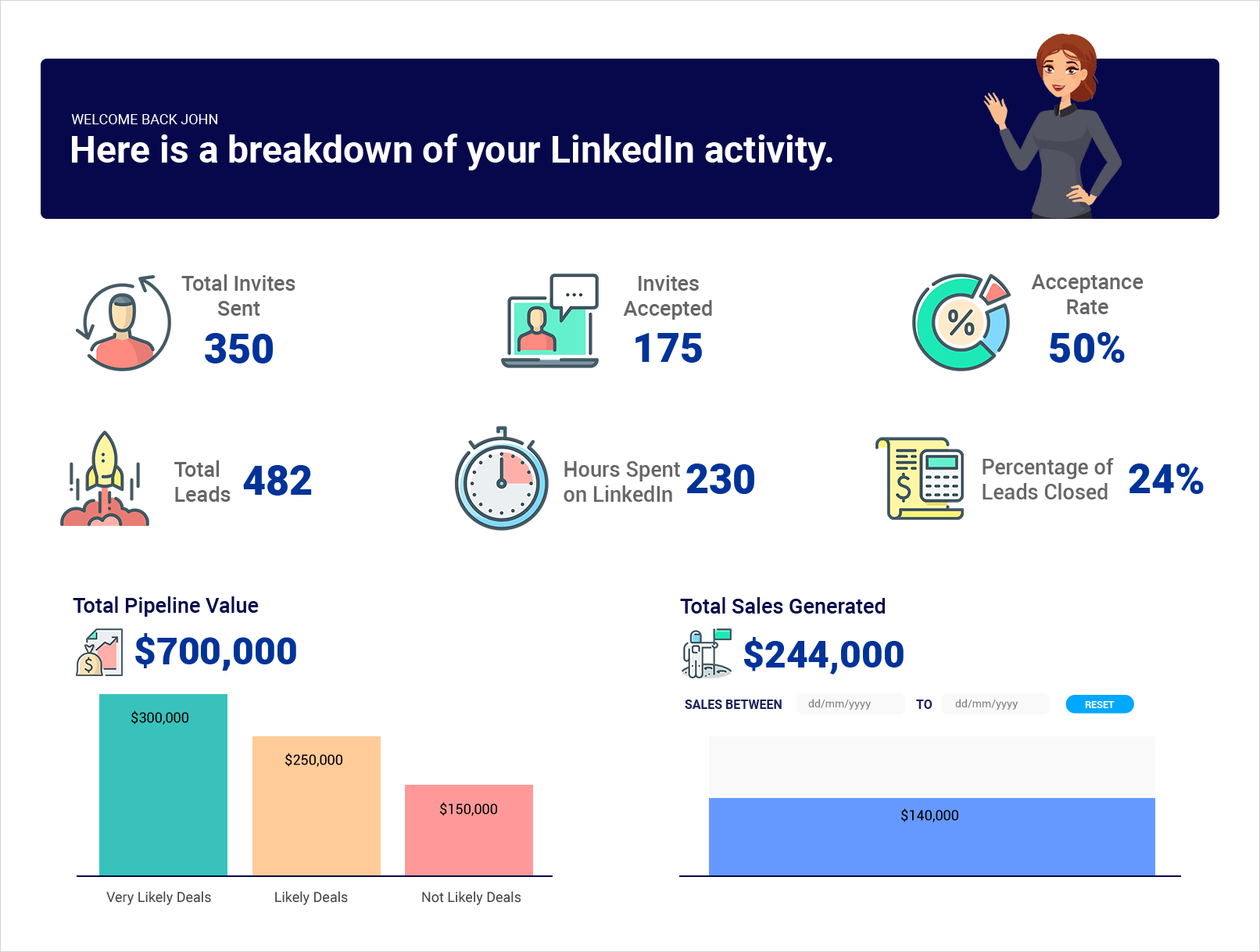 Now that you don't have to worry about manually inputting leads into your CRM, you're probably wondering can it get any better than this? Well, it's just about to, because we've saved the best feature for last: the reporting function!
This is the feature that will tie it all together and show you how your campaign is tracking. For a long time, one of the biggest frustrations we've heard from our clients and other LinkedIn users is that they don't have any tools to benchmark their campaign against.
Having to record all the invites you've sent out, all the conversations opened up, all the meetings you've booked in and all the sales you've closed is overwhelmingly frightening. But trying to make sense of it all is a recurring nightmare. 😥
At linkfluencer® we believe that with any marketing activity you invest in, you have to have some type of trackable data to be able to know what's working and what's not. Because it's impossible to make smart decisions without it.
This is where Jayla comes to the rescue. As your personal assistant Jayla provides you with an activity breakdown of the number of invites sent out, how many accepted along with your conversion rate.
She tells you how many hours you've spent on LinkedIn whilst using Jayla, the total number of sales opportunities you currently have in the pipeline and what percentage of those opportunities you're closing into new sales.
Another great feature of the reporting function is the ability for you to see your pipeline value. So for example, if you have a total of $700K in your sales pipeline, Jayla will break down that total based on deals that are very likely, likely, and unlikely to close.
This gives you a much better view of how your campaign is performing and provides you the insight necessary to make adjustments to your messaging, process or overall strategy.
Oh and we almost forgot, within the reporting feature you can also see the total number of sales you've generated whilst using Jayla and be able to search those figures within a specific date range.
Feeling like you know Jayla a little bit better now? 😊 Well… applications are now open, click here to apply.
The feedback has been amazing so far, so get your hands on Jayla now by clicking here. Can't wait to hear about your experience. 🙌