It's safe to say that the last few years have truly transformed the way we promote and market ourselves. With most things going online, networking and events have taken a big hit with attendance rates on the decline.
That combined with the fact that 2 out of 3 businesses have now shifted all of their marketing spend online shows the world of marketing as we know it has changed forever. Because let's face it traditional forms of advertising is not what it used to be.
Unless you're a company with a big budget, you need to look at scalable ways to market your business that doesn't leave a hole in your pocket. And right now, there's no better platform to help you do that than LinkedIn.
With over 830 million members and 49% of them being key decision makers it's no wonder why 80% of all social media B2B leads are now generated on the platform. 💪
One of the main reasons for LinkedIn's success is the fact that they give anyone, anywhere the opportunity to find, connect and start conversations with hundreds of prospects per week without spending a cent on advertising.
How? Through one of their main premium subscriptions called Sales Navigator. It's a tool that allows you to zero in on a specific audience you want to target via an advanced search filter. For example, let's say you wanted to target accountants who:
✅ Are based in Sydney
✅ Have 1-10 employees
✅ Run their own company
Well…by using 'Sales Navigator's' lead filter functionality you'll be able to not only zero in on this audience but also narrow down based on title, industry and many other cool features. This type of capability allows you to be very targeted with who you choose to connect with.
This is important because in today's overly crowded marketplace, if you don't niche, you simply won't exist. The key to cutting through the noise is relevance, and you can't do that if you don't target a specific audience. 🎯
Now here's the fun part, on top of everything I've mentioned one of the other cool and very powerful features is its ability for you to engage with a prospect's content before you even reach out and connect with them.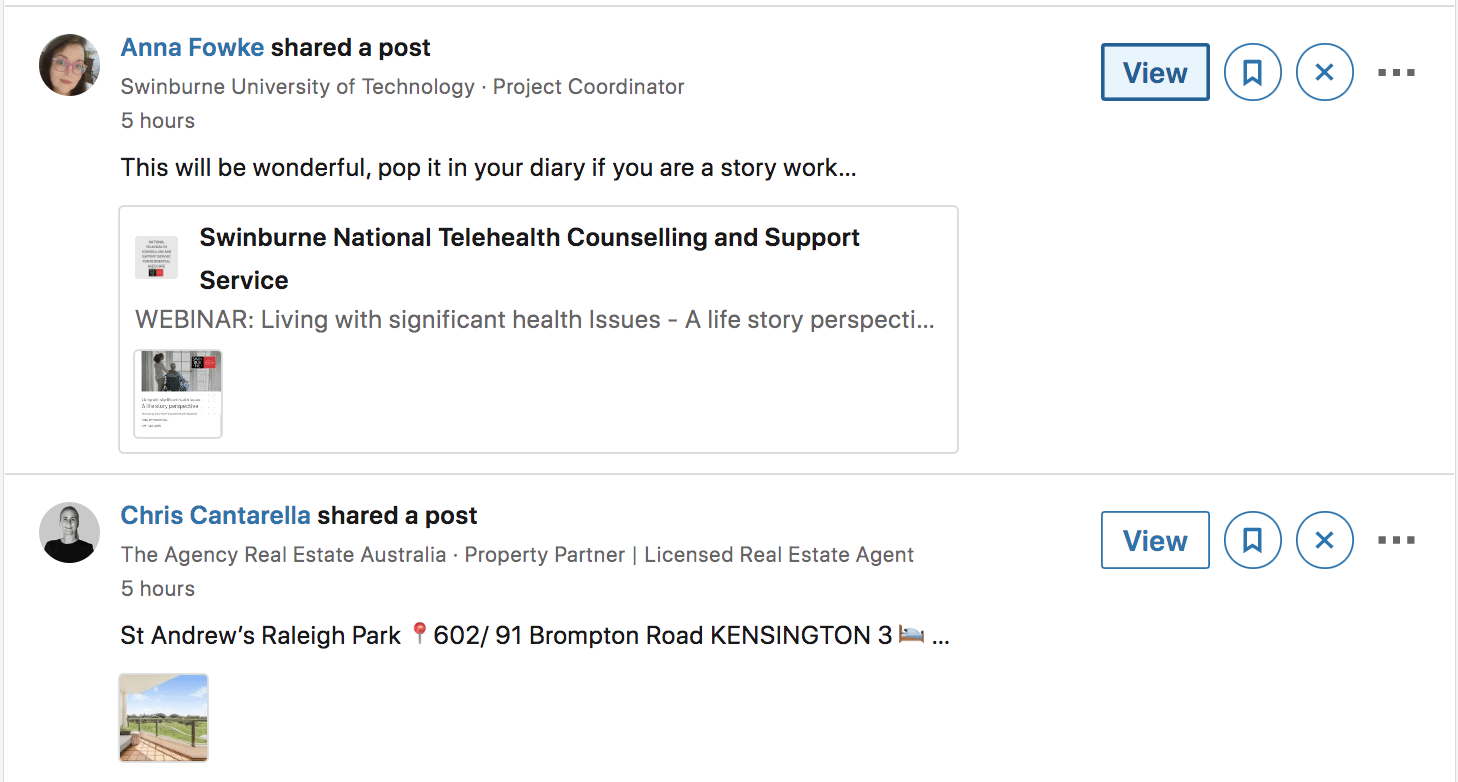 Unlike your normal LinkedIn feed which includes content of everyone you're connected with, inside of Sales Navigator you're able to create a secondary newsfeed of ONLY the people you're reaching out to as part of your marketing campaign.
Now if you do this alone for just 15 minutes a day, you could be opening up at least 10 quality and targeted conversations per week. You see most people don't get much engagement on their content right now. So, when you like or comment on their posts not only will they notice it, but it's usually what gets the conversation flowing.
Combine that with the conversations you'll also open up through your messaging sequence, you're now looking at around 20 conversations per week. And all of this for the price of $130 a month, which is what you would pay for a Sales Navigator subscription. Pretty cool right? 😀
Oh, and this is just through one profile, if you start running multiple profiles at the same time, well, at that point the sky's the limit. Before you know it you could be generating 100's of targeted leads per week.
So now that you know the potential, let's go through a step by step walk through of how to actually make it all happen. First of all you need to sit down and figure out who you want to target. To get a good search developed, you'll need to look at:
1️⃣Titles
2️⃣Locations
3️⃣Industries
4️⃣Company Size
5️⃣Seniority Level
Once you've got this you then need to sign up to Sales Navigator. Use this link to access a free 30-day trial. Then take the metrics from above and create a saved search inside of your account by clicking on the 'Lead Filters' section.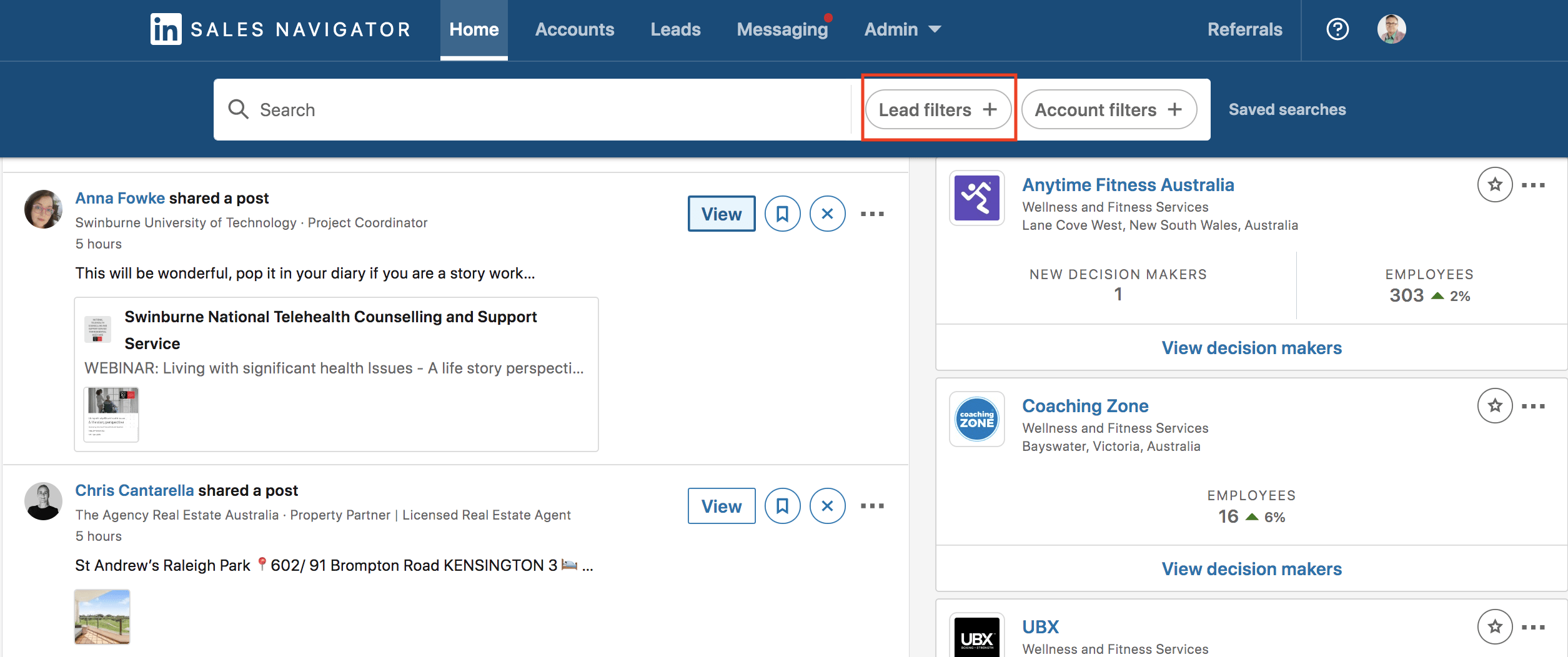 Start entering the data and play around with the search until you're completely happy with it. Ultimately, you're looking for a search between 1500-2000 contacts as it generally takes a few weeks for a campaign to warm up and after that, you want around 2-3 months worth of contacts to be able to test that audience.
At the moment, the number of invites you can send out per week is maxed out at 100 per week, so if you run the maths you'll notice that it ends up being around 1600 with 400 left as a bit of a buffer.
When you do the search if you find that it's too big then play around with the metrics to reduce the size. This might mean that you have to remove a certain location, title or company size.
Remember if you don't niche you won't stand out. The key to getting your messaging right is 'context' and 'specificity'. 👊
Now on the flip side you might do your search, and notice that it's too small. Well, at that stage you'll need to go back to the drawing board and see what other metrics you can include to try and increase the reach.
Some of the things you can to help increase the size is by bringing in new locations, targeting more titles or increasing the company size just to name a few.
Oh, and remember to always select 'Posted On LinkedIn In The Past 30 Days' so that you can start creating the newsfeed I mentioned earlier. If you don't choose that option the saved search won't include prospects that have been sharing content.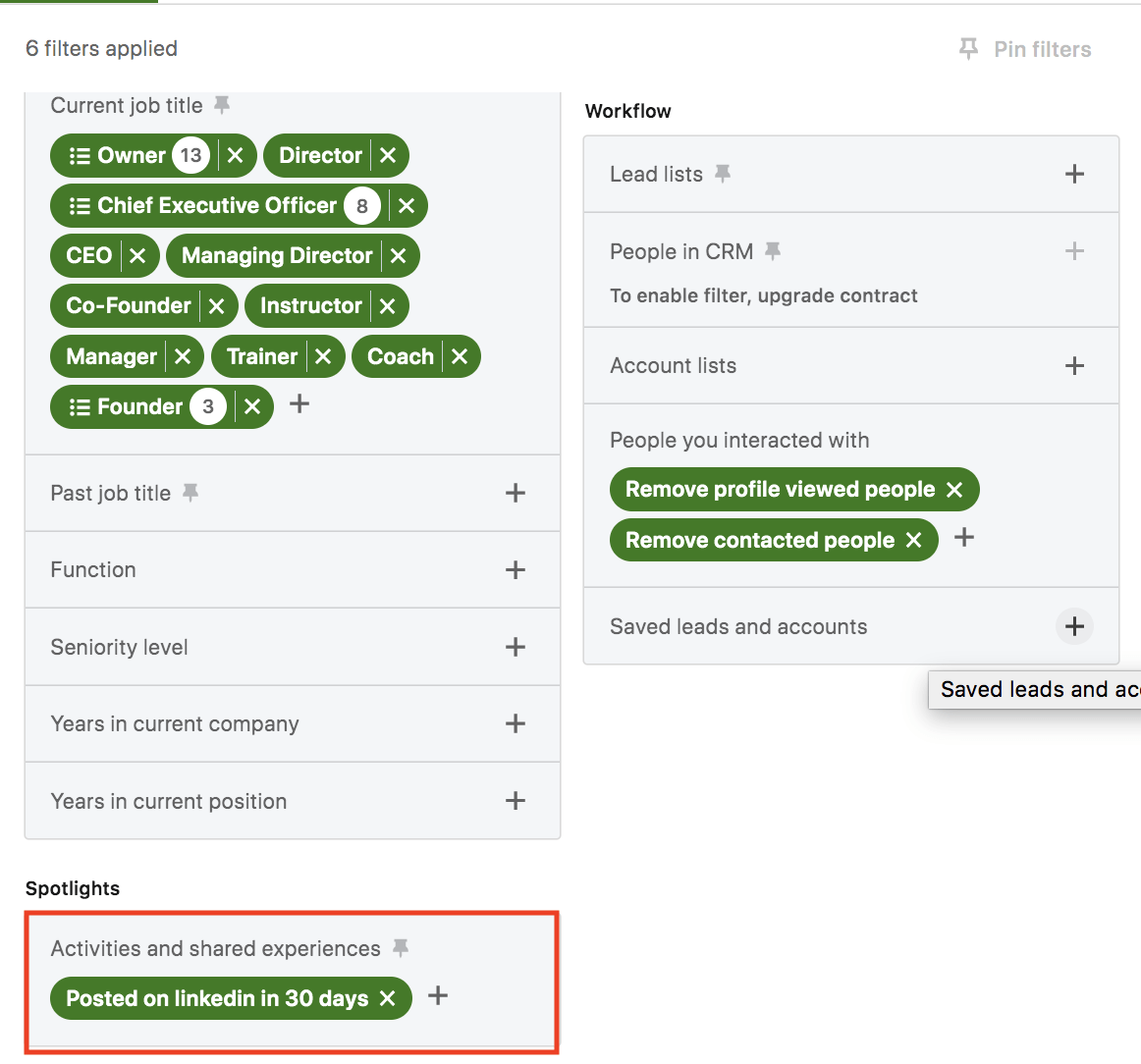 And last but not least, you need to also select 'Remove profile viewed people' and 'Remove contacted people'. This is important because when you're actually running the campaign and sending out your invitations per day, those you've viewed or contacted will be removed from your search to avoid doubling up.
Once you're happy with your search split it up between 2nd and 3rd degree contacts. Why? Well…in our experience what we've found is that 2nd degree contacts are generally more active than 3rd degree.
So by connecting with more 2nd degree, you'll get a higher percentage of people accepting and in return more conversations opening up. This is not to say you shouldn't connect with 3rd degree, you definitely should but right after you've exhausted your 2nd degree contacts.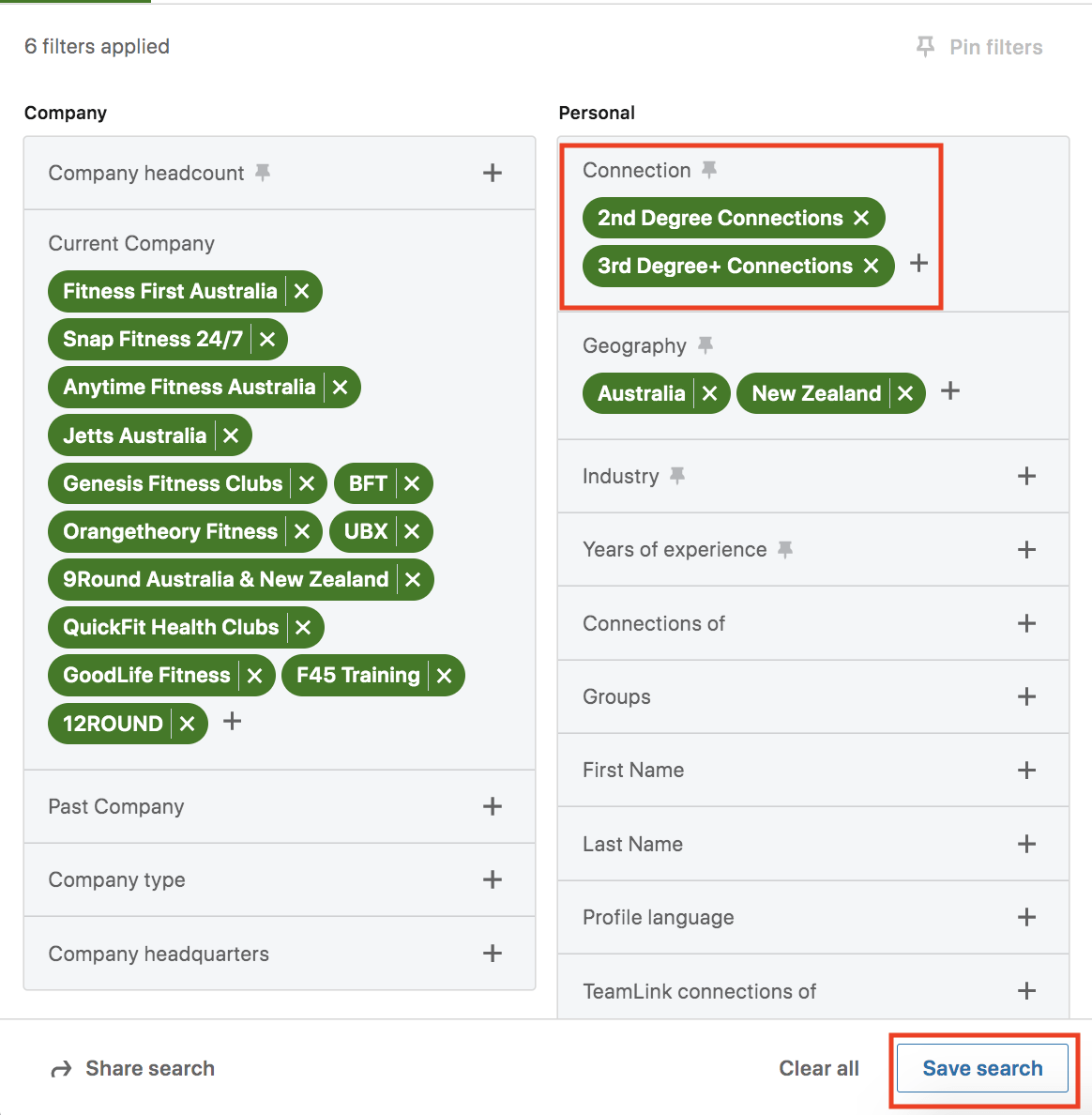 With your saved searches ready, the last thing you need to do before you can start running your campaign is to create the secondary news feed I mentioned earlier. To do click on the leads tab.
From there click on 'Create lead list' from the top right-hand corner and type in the category name that you want to save your leads in.

Once you've done this go back to your saved search, save every lead starting from the first page right through to the last page to ensure every prospect is captured.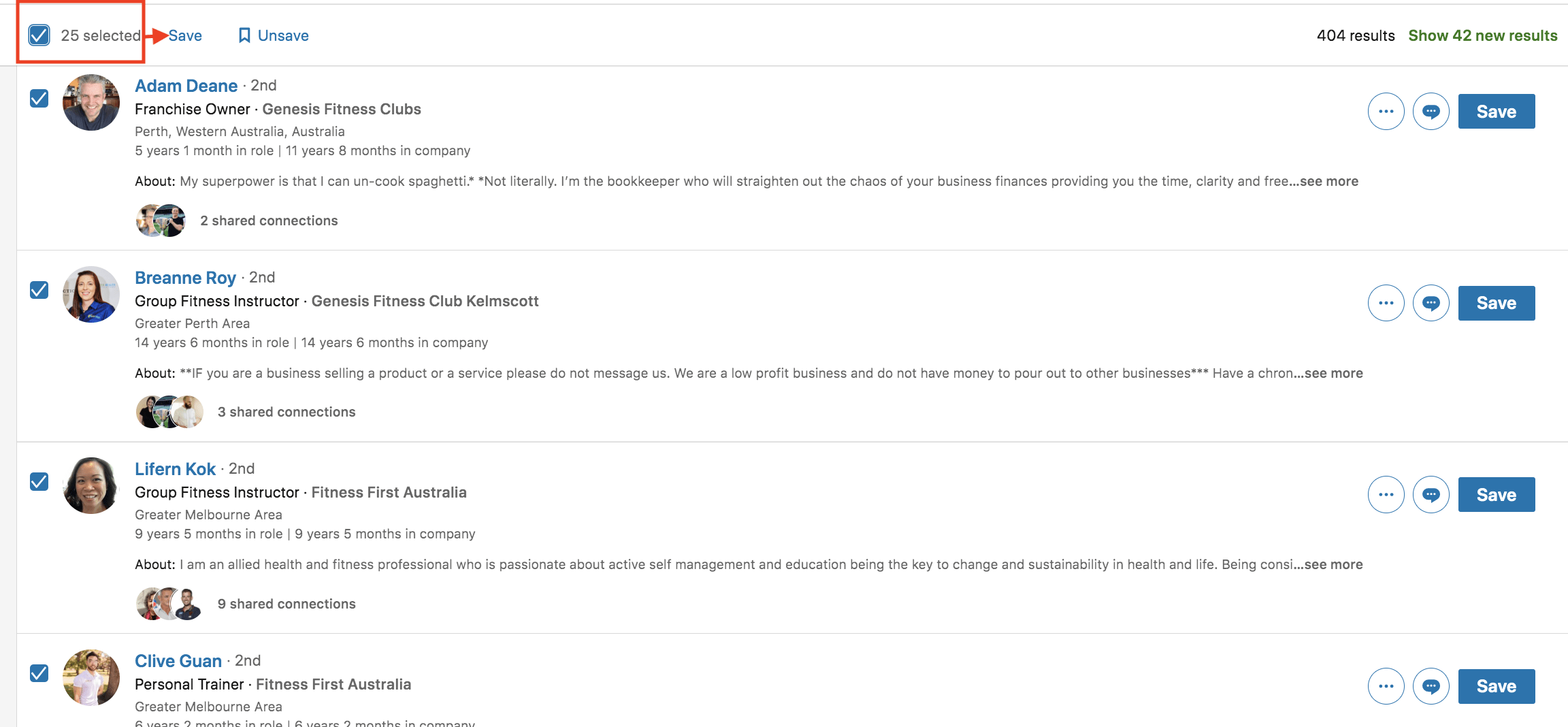 Then click on the 'Home' tab and under 'Leads' you should see a newsfeed populated with content that's being shared by those leads you just saved.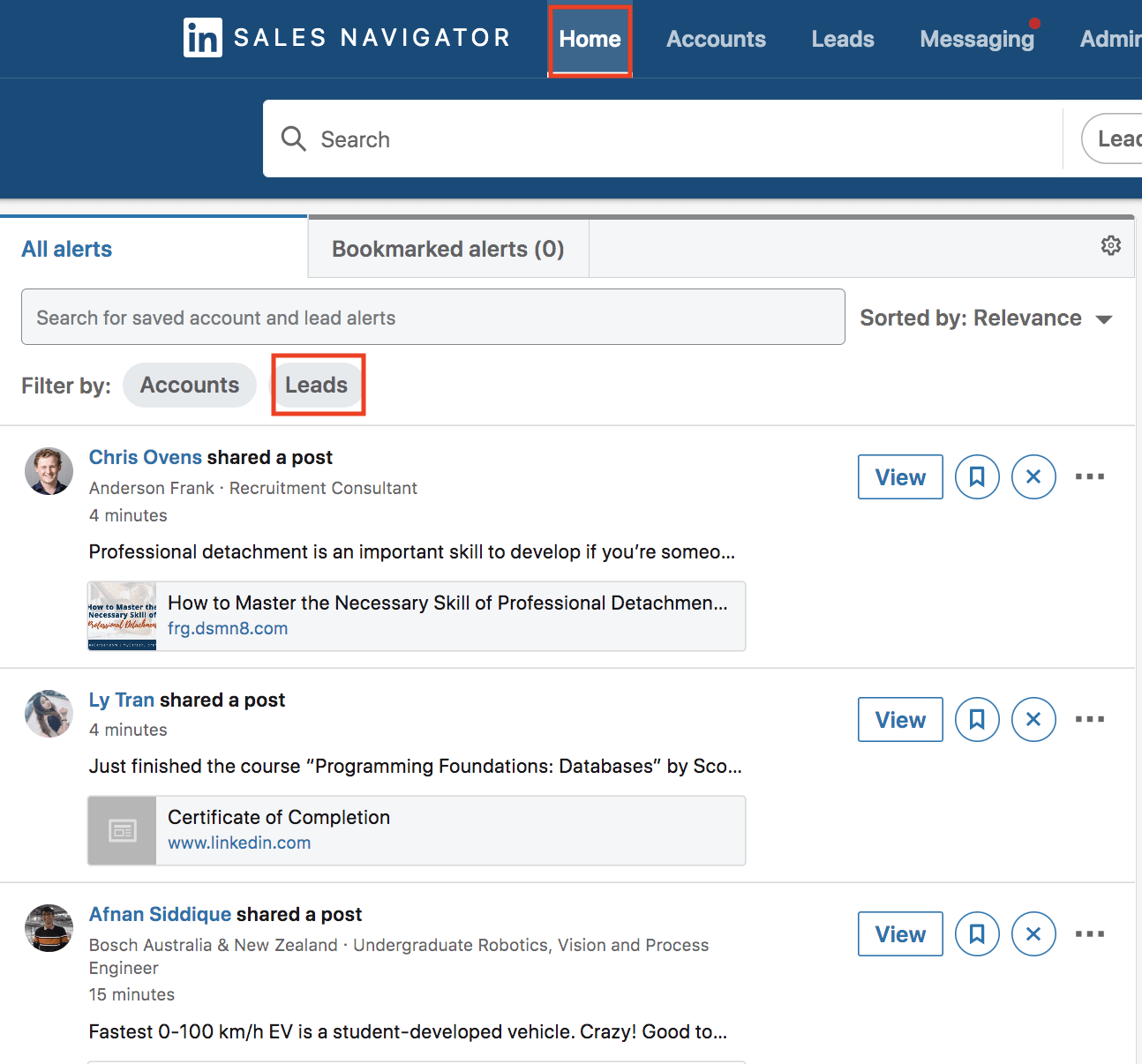 At this point, the only thing left before you can launch your campaign is writing up your invitation and follow up private message scripts. You'll need these when reaching out to connect with prospects and sending a message to anyone who accepted but didn't replay.
Look at your saved search and craft up messages that are relevant, targeted and social. Remember at this stage you're not looking to sell anything but rather to get the conversation going with the view to take that conversation offline into a phone call, online meeting or face-to-face catch up. 🔥
With your messaging scripts and saved search in hand, you're now ready to launch. Remember you can only send out 100 invites per week, so break these up to 20 per day Monday to Friday. That way you can allocate a certain time per day to send out the invites and engaged with those lead shares. To send out these invites simply find your saved search and open up to 5 profiles at a time. Once you're on the prospect's profile, craft your message and then simply hit send. It's as easy as that.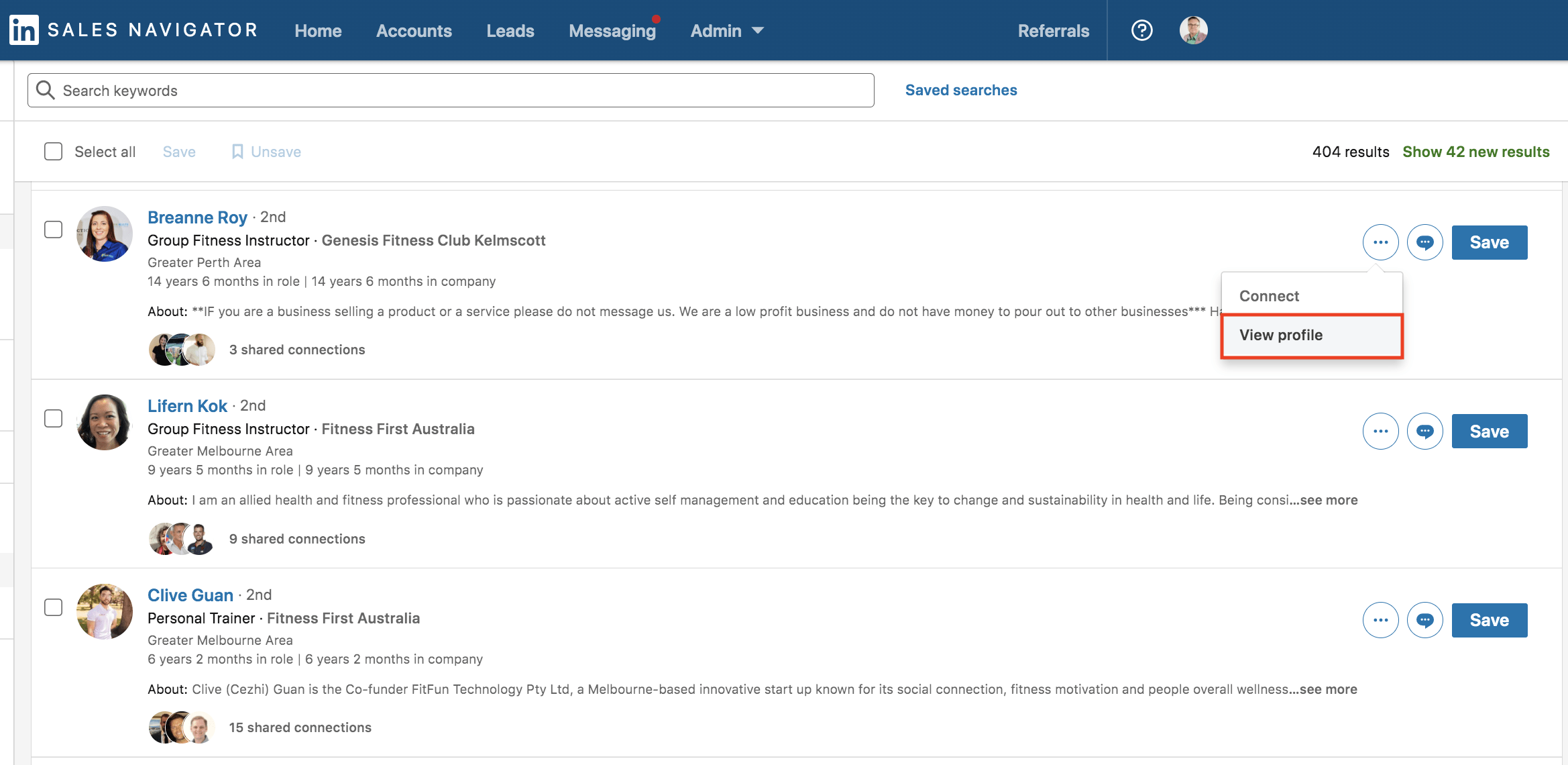 And in terms of the follow-up private message, you should always do them the week after you've sent out the invitations to give prospects enough time to accept your invite and respond. Remember these messages are being sent to those who accepted your invite but didn't respond.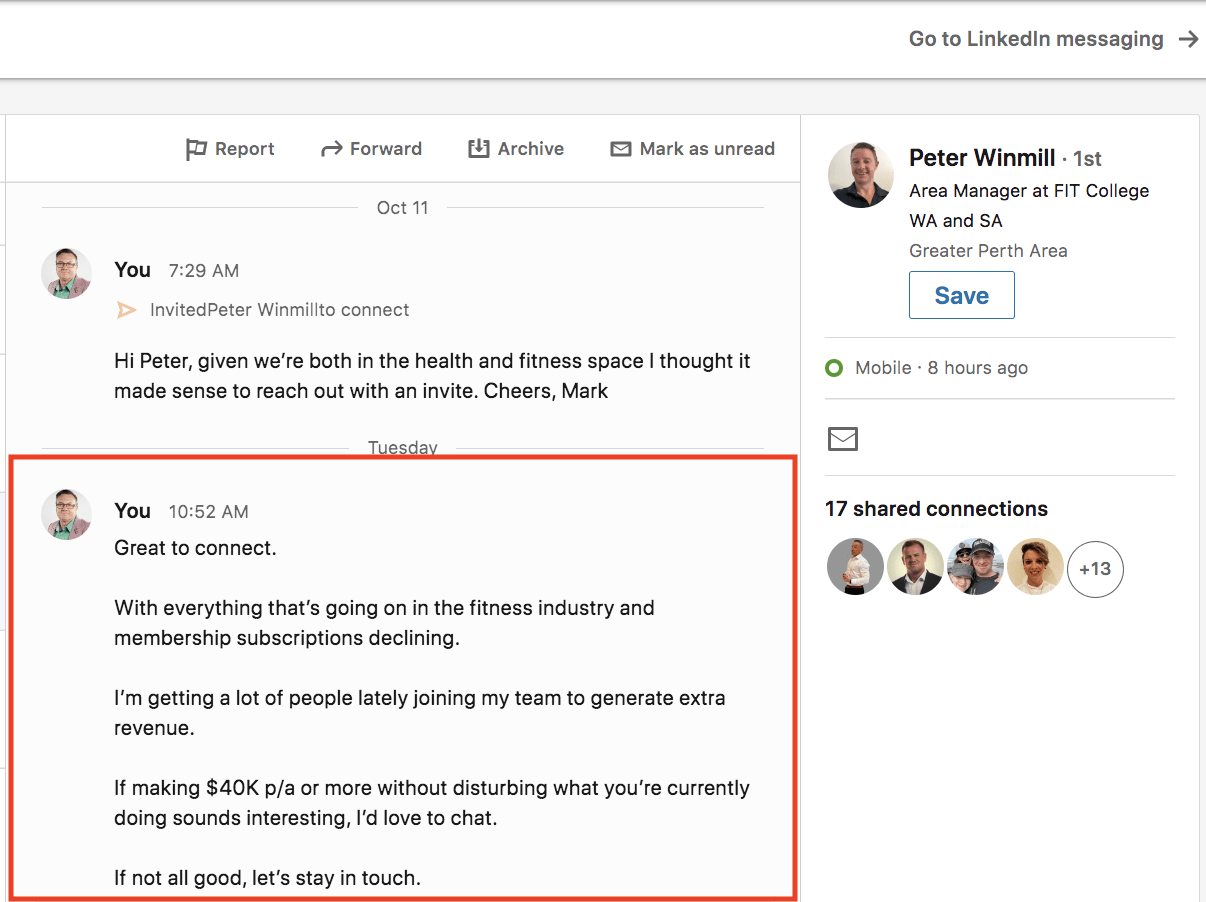 At this point, all you need to do is monitor both your LinkedIn and Sales Navigator for all the replies and then warm those conversations up to take them offline. The goal is to get one campaign up and running, then from there look to replicate this across other team member accounts.
If you have someone internally, work on the resources then delegate the day to day running of the campaign. If you don't have someone, don't worry there's plenty of great people you can hire online.
By delegating your campaign, you can focus on spending more time and energy on the converting the leads that come through. That's pretty much a wrap, we hope you enjoyed the article and good luck with your campaign. 🙏