With the rise of automation, AI, bots and online scams, data privacy has never been so important.
And one platform has often been far more strict in laying down the law than others.
That, as you might have guessed, is LinkedIn.
To keep the peace, they've implemented major rules and restrictions to increase security and also to cut out spam on the network.
So, it's not only important you know them, but you also need to follow them because if you don't, you might lose your account.
And in some cases permanently.
Given how important your LinkedIn profile is for your personal online footprint, you want to avoid the latter like the plague.
Imagine how livid you would be if you put all this work in building up your profile online to see it disappear overnight.
And if you use it as a main source of leads, it could be detrimental to your business or role.
So to avoid this from happening, below we've laid out four major restrictions you need to be aware of and how to stop them from locking your account.
So let's go!
1. Too Many I Don't Know!

If you keep walking up to girls or guys in the bar asking everyone out for dates, who crosses your path in the wrong way, at some point security is going to step in and ask you to leave for harassing the other guests.
The same goes for LinkedIn, if you're sending out blanket connection requests to an audience that has no relevance, and you're not adding any value to, chances are they will click the dreaded 'I don't know' link which appears after they have ignored your request.
This is the last thing you want, as if you start getting too many of these, guess what?
A security guard with the name LinkedIn is going to tap you on the shoulder and escort you to the door, and you'll get booted from the platform (potentially permanently).
To avoid this from happening, first make sure you have a great profile, which makes it much more likely they will not only accept but respond.
For information on converting profile views to new business, follow this link.
Next, make sure you're reaching out to people who are targeted, and your messaging is personalized to them.
Then you want to make sure you're connecting with quality connections VS quantity, so before reaching out with an invitation, have a quick scan of their profile and make sure it's a YES to the following questions:
-Do they have a photo?
-Do they have 50% of their profile completed and;
-Do they have over 250+ connections?
If you confirm the above, it's a much better chance they will accept or at least not click the "I don't know".
Oh, and another thing, make sure to reach out to 2nd degree connections instead of 3rd degree as you will have mutual connections, and they are much more likely to accept.
And the final work around here would be to withdraw your connection invites on a weekly basis.
If you have sent an invitation out and after a week someone hasn't accepted, there's a good chance they are probably not going to.
Make sure you clean this up very regularly by following the steps shown in the screenshot below from the My Network tab.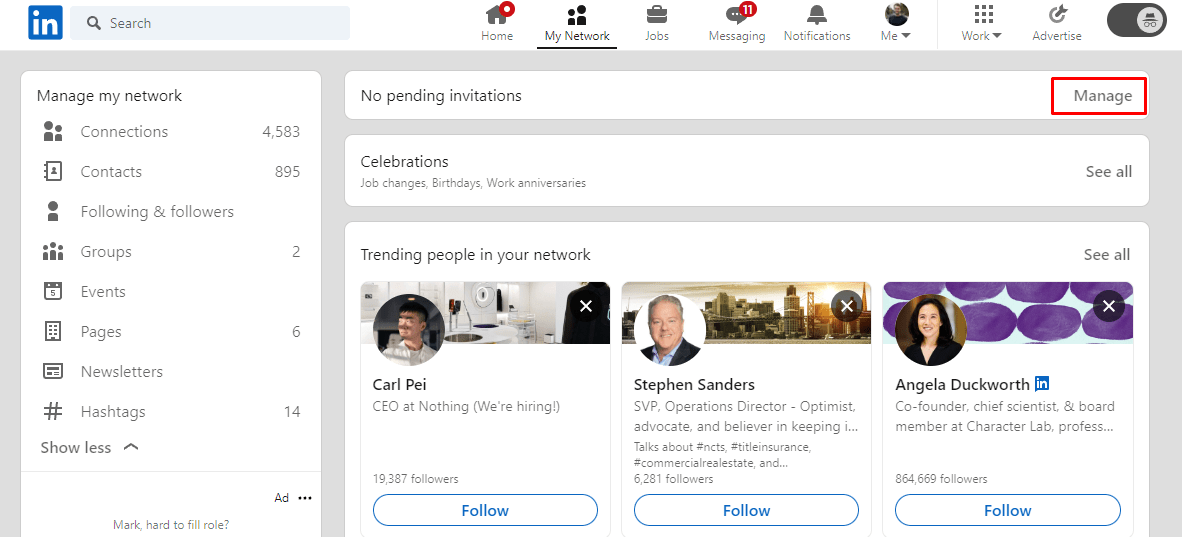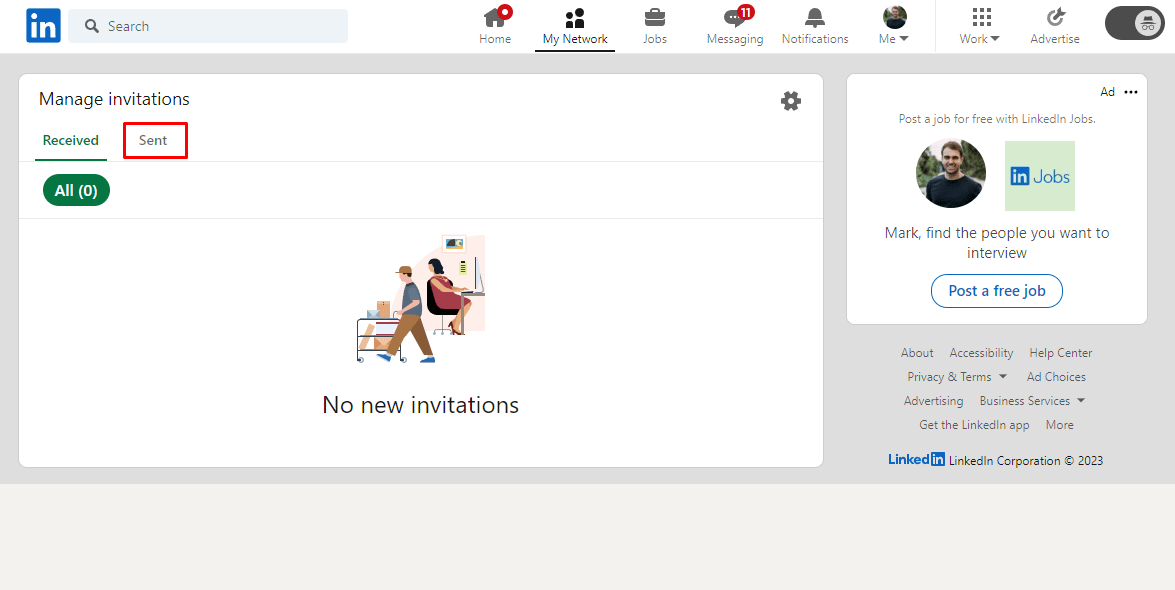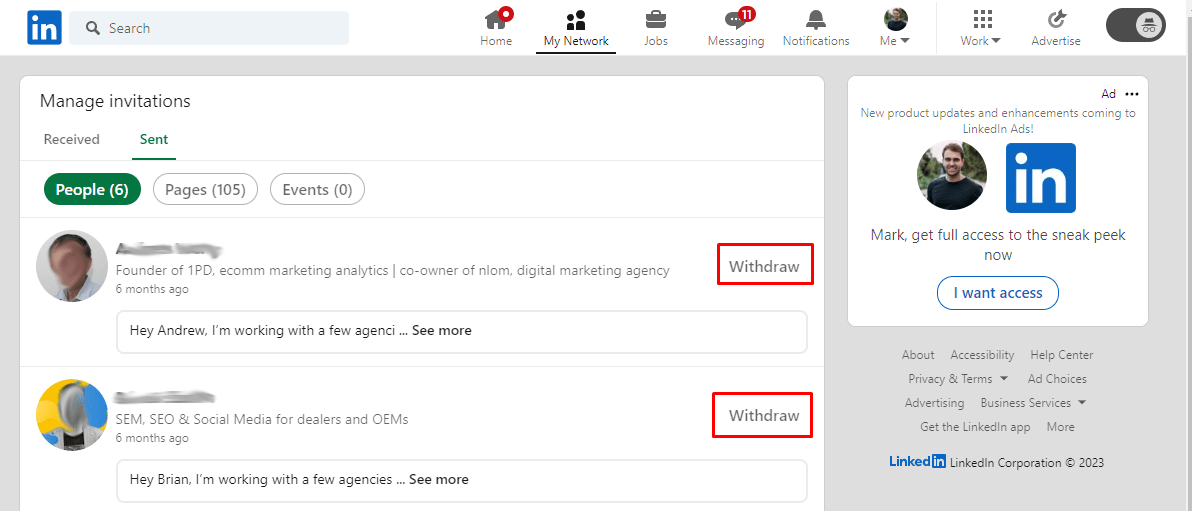 Using these few tips when sending connections will stop this restriction from appearing, which leads us onto point 2.
2. Weekly Connection Invitation Limit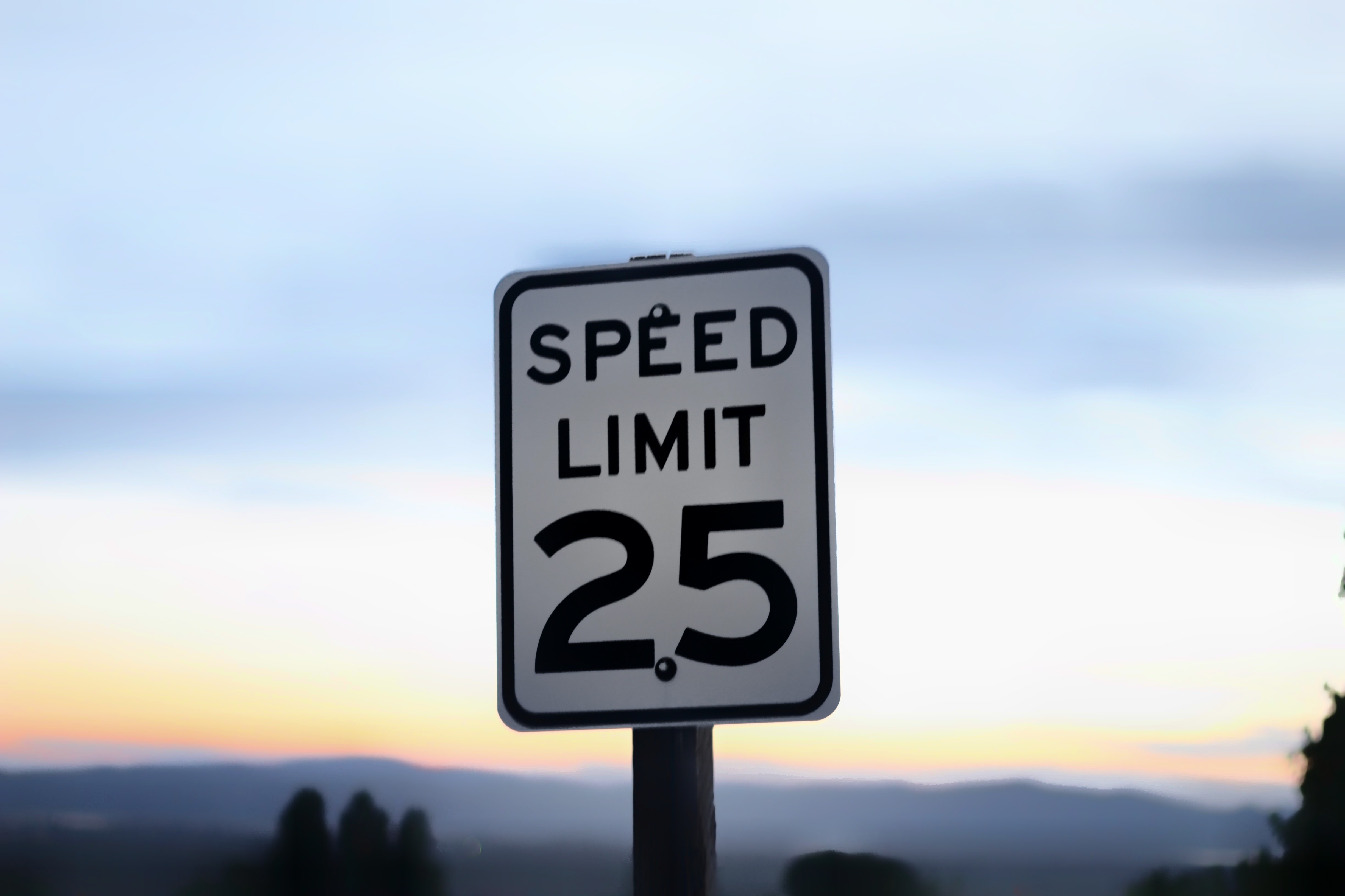 Currently, LinkedIn has a limit on only being able to send 100 invites per week.
Yes, there are some automation tools that can send more, but this eventually will lead to getting your account banned.
LinkedIn caps the amount you can send, and you'll get notified when you try to go over, which then sends a flag to LinkedIn.
To avoid this from happening, simply send 99 invites a week instead of 100, so no flag appears.
Because if you constantly hit the warning siren again, LinkedIn security will kindly ask you to leave the show.
The next point is also closely related to the previous point, as when you send connection invitations you often try to speed things up by opening multiple tabs in LinkedIn, here's why you need to be careful when doing that.
3. Opening Multiple Tabs On LinkedIn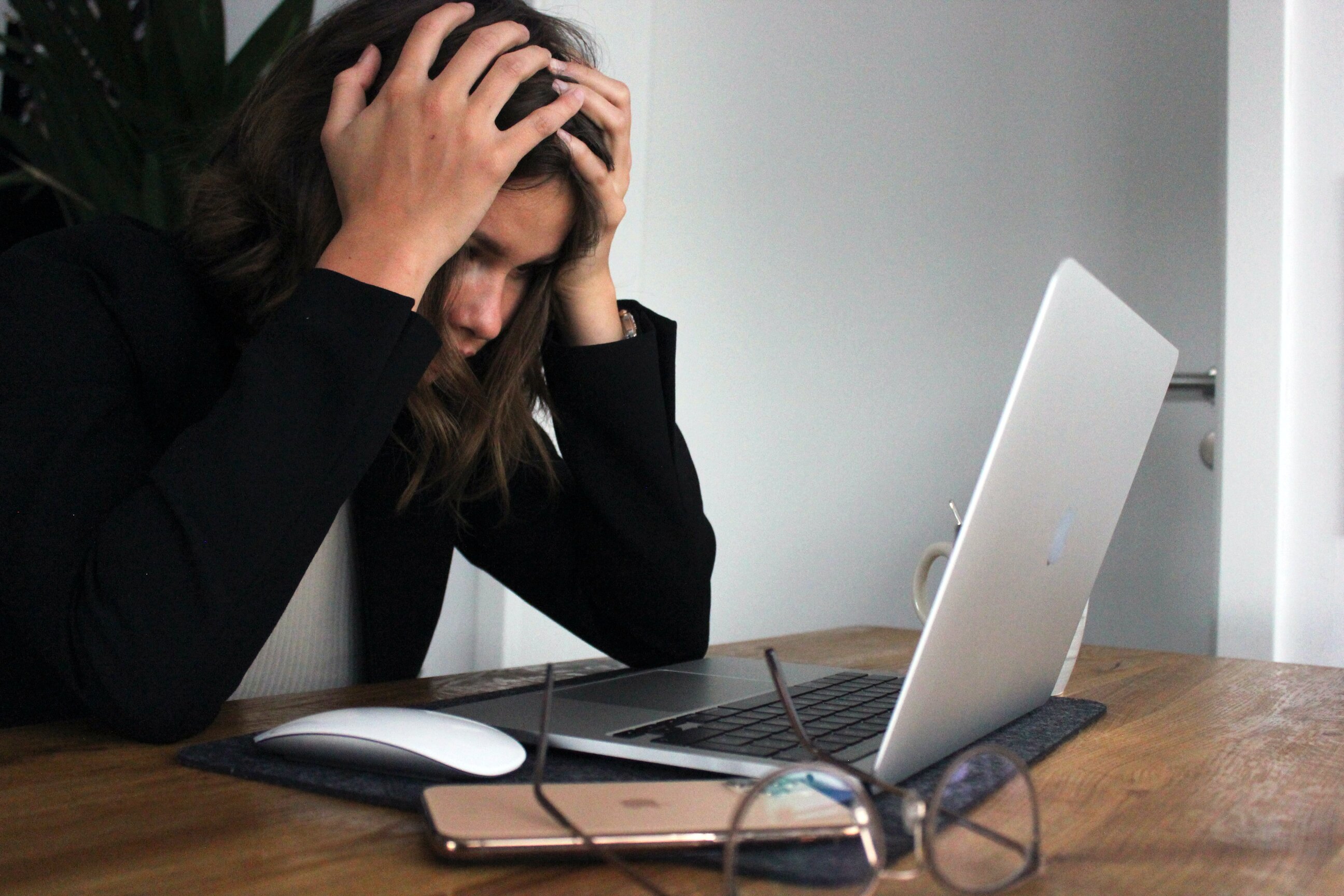 Whether you're using LinkedIn or Sales Navigator, often you want to open up multiple tabs to reduce time in doing your lead generation.
Based on our experience, if you open up more than five, that's where issues start to arise.
This will cause a "Too Many Requests" error, which will lock you out of your account for 24 hours.
To stop this from happening it's simple, don't open more than five LinkedIn windows, which takes us to our fourth and final restriction.
4. Multiple Users Logged In
This one appears if, for whatever reason, you have more than one person logging into your account.
Perhaps you have an assistant running your campaign or responding to people, if you are both logged in at the same time doing things within the account, you may get the same "Too Many Requests" error.
Again, this will go away in 24 hours, but it's frustrating not being able to access it for a day, so to avoid this, make sure you set a schedule for your assistant and tell them to use the account at a certain time.
This means you can avoid that time when they are working on it and therefore not have the restriction on your account.
That takes us to the end of the "big four" but like with any technology, there are other things that might not be restrictions but tech challenges that can pop up, these include but not limited to:
-The search filters not working correctly in Sales Navigator.
-Saved searches, not populating with leads.
-Messages not appearing in Sales Navigator
-And many other little glitches that appear.
Sometimes this can come down to a caching issue, so we recommend doing the following:
1. Logout of LinkedIn and try again
2. Shut down your computer
3. Clear the cache/history of your browser
4. Try to do whatever you are doing again and see if it works
5. If it's a saved search issue, try to re-do the search
And finally, if you're still having issues, touch base with us or LinkedIn, we might be able to provide some advice or LinkedIn might be experiencing a problem they are in the process of fixing.
So, there you have it, the top four big restrictions and challenges and potential solutions / workarounds.
These are the ones we've found along the way to be consistent over time across many different people and profiles.
There are some that are unique and new ones do appear very regularly, so if one does for you, we love to hear about it!
Trust you enjoyed the post and we'll see you here next time!