LinkedIn is not about how many connections you have. It's about how engaged those connections are with you and your brand.
When people start marketing on LinkedIn, the first thing they think they need is more followers. The bigger the number the better.
So they begin to artificially inflate that number either by purchasing them from websites that sell fake followers, or connecting with anyone and everyone. Over time they end up building a big network of contacts, but struggle to get any engagement from their content or do any business on the platform.
Success on LinkedIn all comes down to building a targeted and quality network of connections. Then turning those connections into a community of people who know, like and trust you through one on one conversations and quality content.
And there is no better time to do that than now. LinkedIn has really only in the past 18 months became more focussed on being a community driven platform.
Before that it was more about one on one connection and there wasn't a great deal of activity in the newsfeed, therefore building a community was tough. With that said, here's a 3 step process you can start following to build your network of targeted connections and then turn them into an engaged community on LinkedIn.
Step 1: Know Your Audience

The first step to building your community is to make sure the connections you have within it is targeted. Who is it you're looking to connect with exactly? Who's your target market?
Start to think about the position, industry, location, company size and seniority level of the people you want to connect with. So for example if your target market are Lawyers in Melbourne who own their own legal firms your client avatar might look something like this:
Position: Owner, Principle, Founder, Managing Director
Industry: Legal Services, Law Practise
Location: Melbourne, Australia
Company Size: All sizes
Seniority Level: Owner, CXO, Partner, Director
Once you know who you want to connect with, you then need to do a stocktake of how many of your current network of contacts are within this target demographic. This will give you a good indication of how big of an audience you already have to identify whether or not you need to start adding new connections in to your network.
To do this you will need a tool called 'Sales Navigator' as this allows you to search, find and connect with your target audience on LinkedIn. You can sign up from this link. Once you have signed up, go to the advanced section and select 'Search For Leads' from the drop down menu.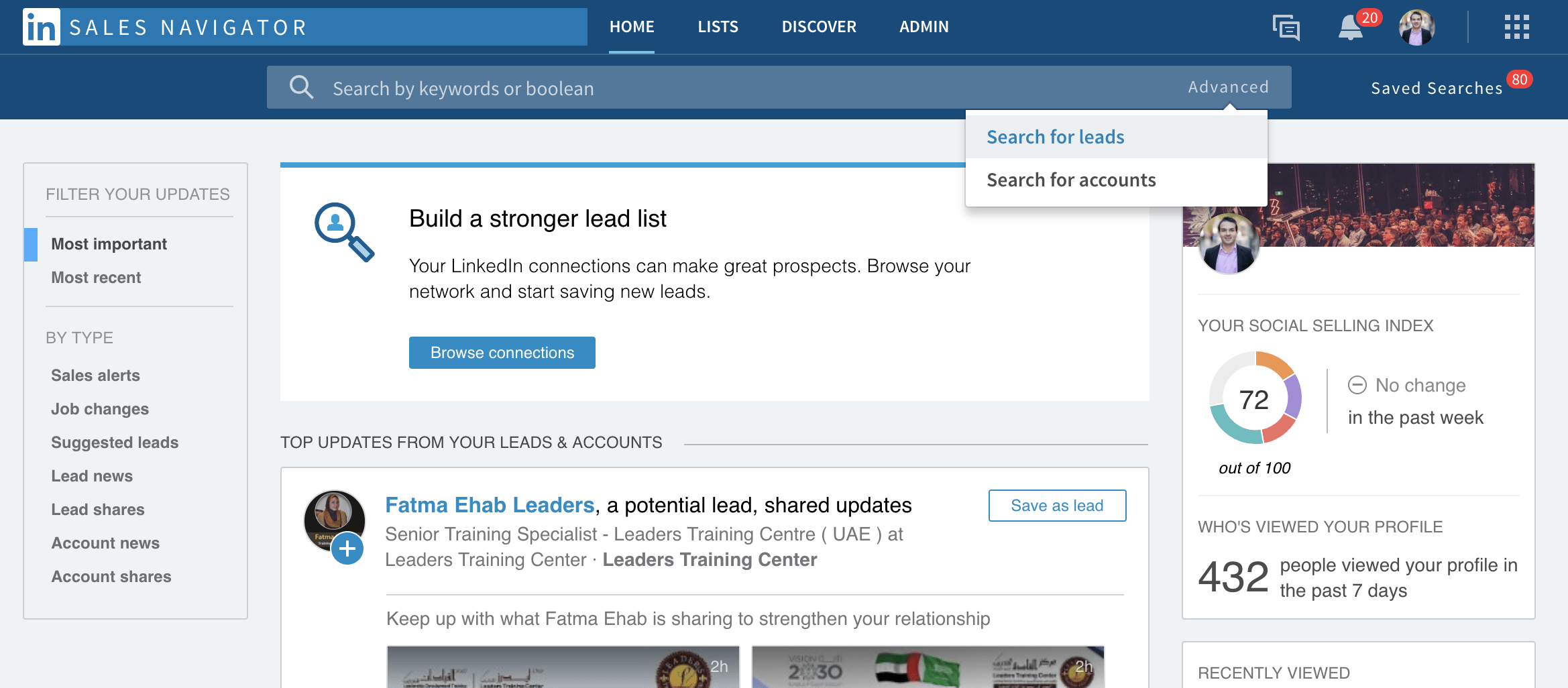 This will open up an advanced lead builder where you can search for people who are 1st, 2nd and 3rd degree connections of yours. To bring up a list of existing contacts choose 1st degree connections in the relationship area.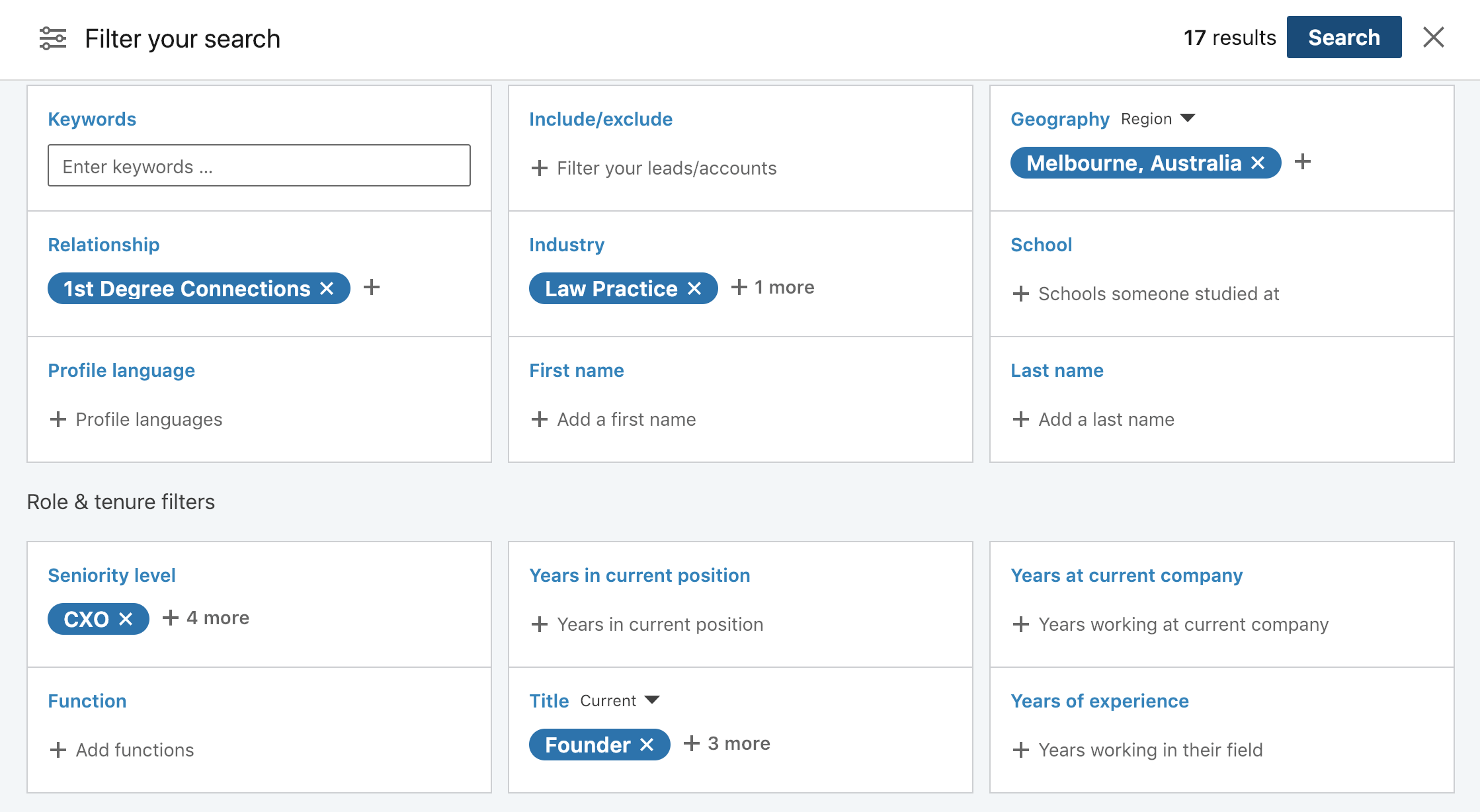 If your search result is less than 1000 people, that's a good sign you need to start building your network. Otherwise there's no point sharing content as it won't be seen by the right people.
Step 2: Build Your Audience

Next step is to build up your network, to do this you need to go back into Sales Navigator but this time instead of searching for 1st degree connections do a search for 2nd and 3rd degree as these are people outside of your network. As you can see below, now that we've expanded the search out to 2nd and 3rd Degree there are over 5000 potential people to connect with: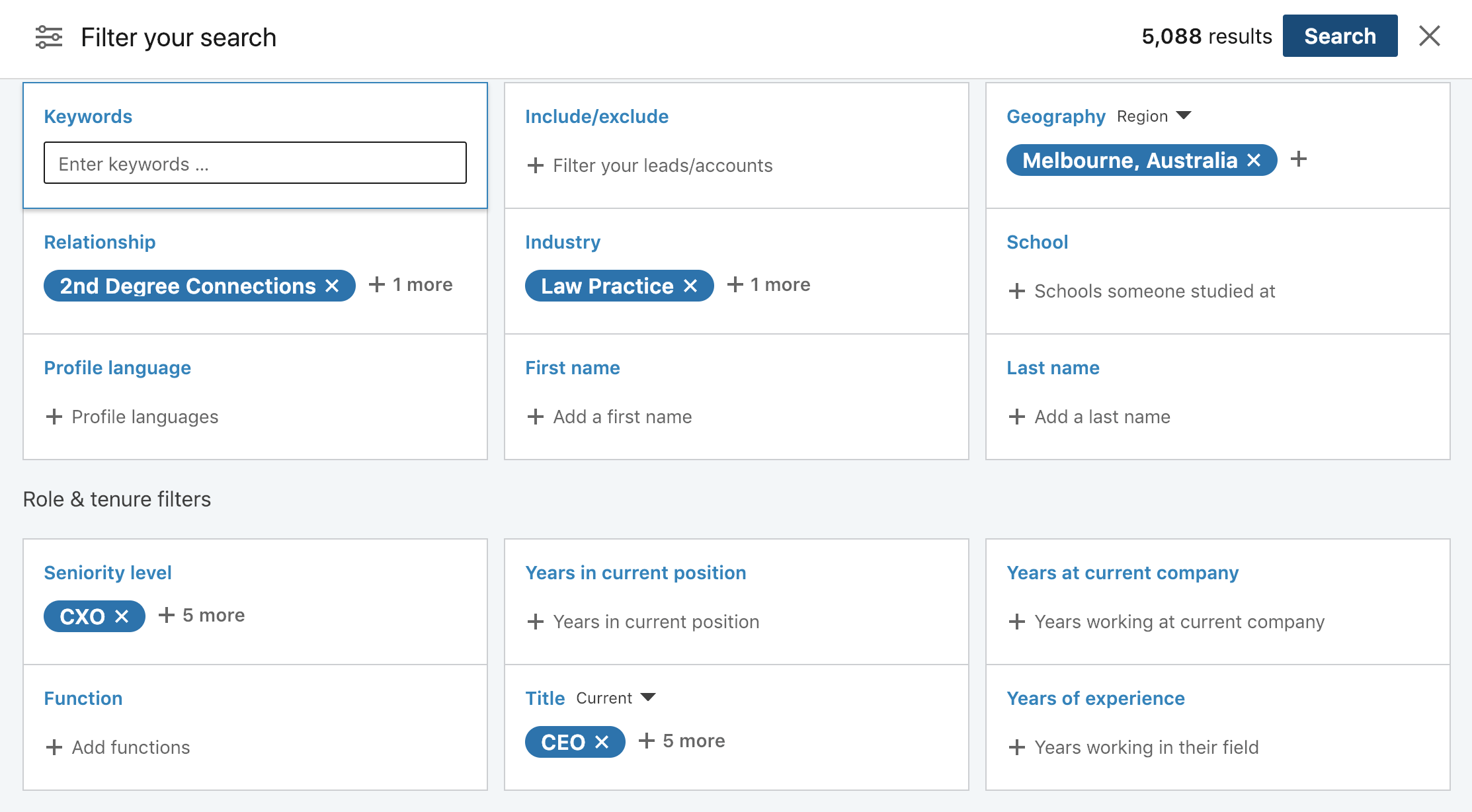 From there we need to start sending out 50 – 75 invites a day to these prospects with a custom personalised invitation script and then follow up with a private message to those that have connected, but not replied to your invitation. This is so you can start conversations with your target audience, whilst building up your community.
Step 3: Share With Your Audience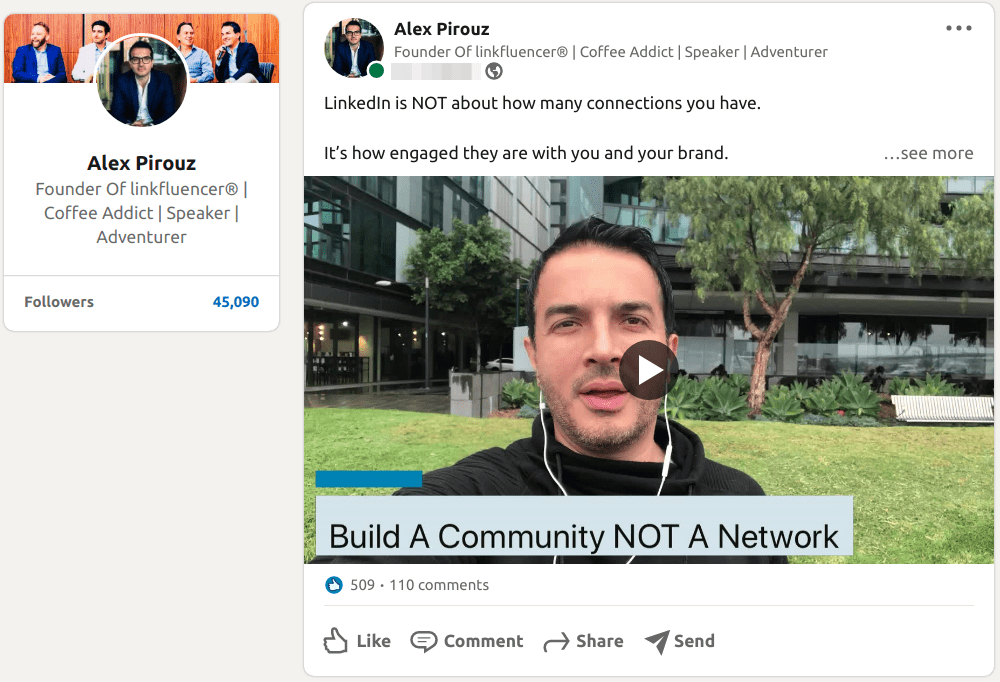 Now that you've started to build up your audience the key is posting up valuable, targeted and relevant content consistently. Not everyone you connect with is ready to do business with you, it might not be the right time. Maybe they don't have a need for your service or perhaps they don't quite trust you yet.
By posting up content regularly you stay top of mind, build your influence and expertise within your network. That's how you turn connections into community of people who know, like and want to do business with you.
To do this, we recommend focussing on status updates, which includes videos, text updates or images. You need to be posting at least once a week, and if possible, it should all be video as we have found this style of content is getting the most engagement on the platform right now. If you're not sure how to do this, here's a blog we wrote not so long ago.
And then finally consistency is key. Far too many times we see people get excited and start following the steps, begin to get a little bit of engagement, but not get the results they want and stop.
The ones who are successful on the platform stay consistent by continuing to put up great content week in week out, no matter what. As you post more content, you get better at it and therefore you start getting more cut through and engagement. The more you post the quicker your community grows.
Now to help with achieving this level of consistency we recommend getting a virtual assistant by using sites such as Upwork or Freelancer. This will help you get rid of the heavy lifting and labor intensive work required to run these campaigns.
Once you've hired your assistant simply write your connection script, follow up message and create a saved search inside of Sales Navigator. From there ask them to send out 50 – 75 invites a day to your target audience as well as following up those that didn't reply with a private message the week after. Then all you need to do is set yourself a weekly task to record and write the content, and send it to your assistant who can then post it at a suitable time during the week.