More and more entrepreneurs and sales professionals are using LinkedIn as a primary source of new leads and business development. For B2B transactions, LinkedIn is a critical tool that can make your prospecting:
– Faster
– Smoother
– More profitable
Although generating a list of potential leads is a great first step in your LinkedIn marketing efforts, being an effective marketer often comes down to getting in front of the person that can make the decision you're looking for. You can talk to as many gatekeepers as you like, but without the exact name or contact info of the person who makes the purchasing decisions, your sales effort will be ineffective.
We will share with you how to first build up your sales pipeline of targeted leads…with a tool we consider to be the most effective lead generation strategy on LinkedIn and maybe even on the Internet. And that's the 'Advanced Search' feature of LinkedIn, located in the middle at the top of your LinkedIn account.

The key to success in any marketing strategy is defining a specific target market, getting as much data as possible about that demographic and then be able to easily connect with that audience. This is why the 'Advanced Search' is such a great feature. Think about it: Where else would you have access to over 500 million members, with 49% of them being key decision makers?
The first step in the process is to conduct a highly targeted 'Advanced Search'. With a free account, you can search for prospects using:
– Keywords,
– Filtering your relationship level,
– Identifying your prospect's location, and
– Choosing up to one group.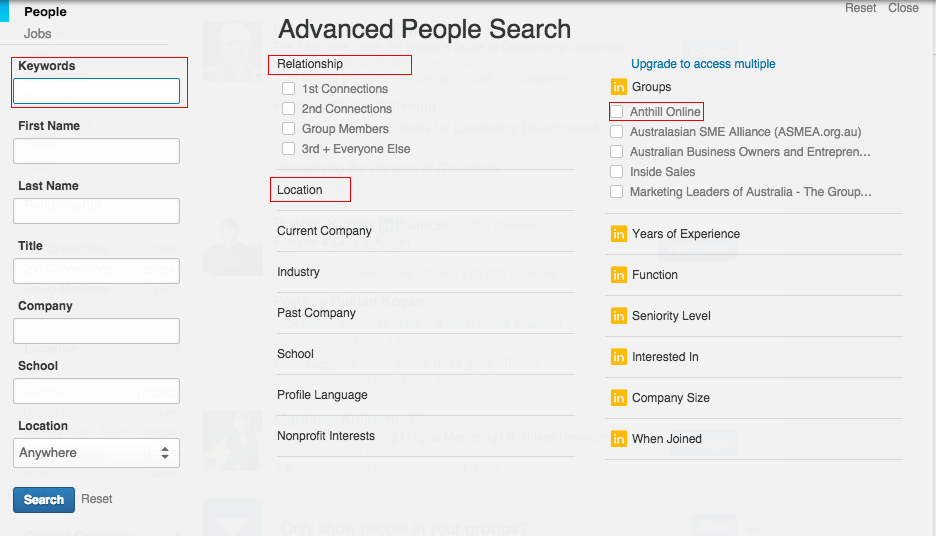 In addition to using these, you can further narrow your results by adding a zip code to the query. Only use this option if you're looking for prospects in a certain geographical area.
Use the sections listed above to drill down on your ideal customer as much as you can. Your goal is to find the people whom you are most likely to do business with. Once you type in your parameters, you can generate a search by selecting the 'Blue' search icon at the bottom left hand corner.
Tip: When you perform an advanced search, include words that would reflect the title of your prospect like Account Manager, Director, VP, or Owner.
If you are on a LinkedIn premium account, you can go deeper with your search by including some or all of the following features depending on the membership level:
– Company Size
– Seniority Level
– Years of Experience
– Function
– When Joined
– Interested In
These are the options we've highlighted in the screenshot below: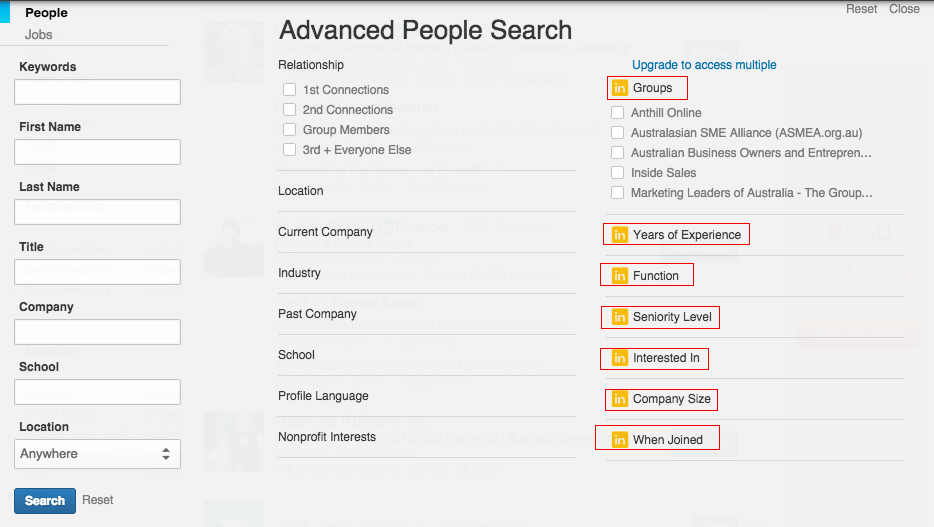 Once you hit search, if your results show someone who is in your extended network (meaning 2nd degree), you now have a few options:
Option 1:
Visit their LinkedIn account and collate data such as their name, position and company name, which you can then use if you decide to call the company.
Option 2:
Start following them on LinkedIn. This will allow you to see their status and blog articles on your news feed which you can then comment, like or share to start building that relationship with your contact.
And the best thing about this strategy is that you don't have to be connected to a particular member in order to follow their work. You simply:
1) Visit their LinkedIn profile,
2) Click on the arrow next to the box 'Send a Message', and
3) From the drop down menu select 'Follow'.

Option 3:
Another option is to send them a personalized connection invitation on LinkedIn. If they accept your invite, you both will be part of each other's network giving you the ability to send them a private message, tag them into a specific folder and share relevant content that will be posted on their news feed.
Option 4:
And last but not least, you can also direct message any of those contacts within your search if you and that person are on a premium membership account. This is different to an InMail. With this feature, you can send as many emails as you want for FREE. To message this person simply:
1) Visit their LinkedIn profile, and
2) Click on the grey button, 'Send A Message' found next to the connect button.
This will then take you to a page that looks like below image. From there, simply insert your subject line and copy then hit send. Notice in the bottom right-hand corner that even replies to this message are FREE.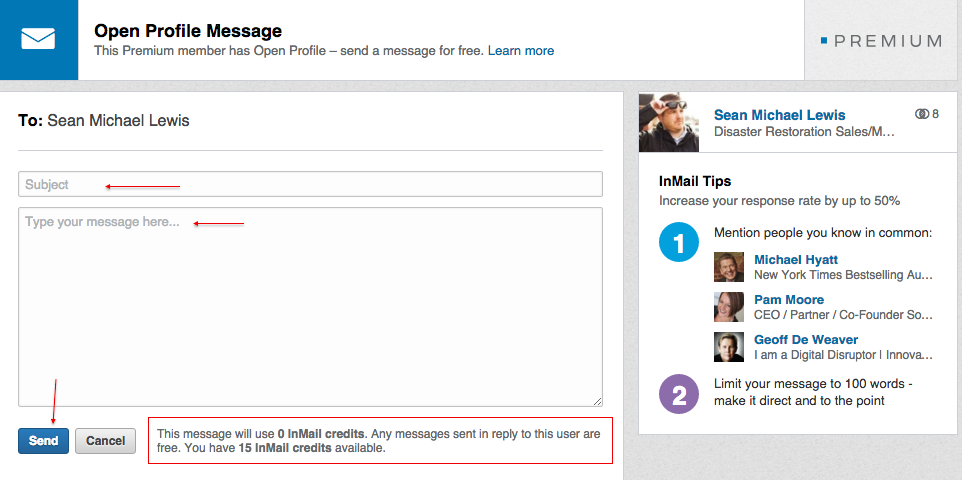 The way we do business has changed. Customers are more educated on the services they need, there are more influencers and decision-makers than ever before, and cold calling is becoming less and less effective. Somewhat dead in our opinion!!! To survive in today's marketplace, it is essential to adopt new practices and embrace the new world of reaching and then connecting with key decision makers.