What is your professional image? What makes you unique in the marketplace? Prospects, clients, colleagues and potential business partners are seeking you out in using LinkedIn to do it.
When they land on your profile page: Will they find information that supports who you are? If not, it is time to re-think how you are presenting your professional brand online. If you want a profile that shows off your personality and professional brand, then use these tips below to transform a basic LinkedIn profile into a lively professional story about who you are and how clients will benefit from working with you.
The Process of Brand Building
In order to build a brand that is the best reflection of who you are as a business owner, it is essential to first identify your business' core strengths and those that allow you to differentiate yourself in the marketplace. You also need to have a clear understanding of the audience in which you want to communicate. Specifically, whom you want to find you: Your target market!
And then you need to think yourself, what does this target market need to know about YOU that will help them make a purchasing decision? Remember that every sale you make requires another human being behind that transaction.
That human being has a family, goals, dreams, accomplishments, and hopes for a better life. That person will be exchanging money to receive the value that you are providing.
When you use LinkedIn to attract more clients, you need to fill your profile with content that relates to your ideal client. When they visit your profile, you want to exude your understanding of them by using their keywords and phrases.
A few years back, we came across this famous cliché, "what's in it for me?" Keep that in mind when you are crafting your Summary, Experience, and Headline. You want to make sure that you are speaking from a place of understanding of THEIR needs, keeping the focus off of you.
Once you truly know your customer, it will be easier to create a LinkedIn profile that aligns with your branding goals. As you continue working on that, below are a few tips you can use TODAY to start building your brand.
1. Customize your LinkedIn URL
When establishing your personal brand, it is important that you make it easy for potential clients to find you. When you customize your LinkedIn URL, you can easily embed the link on your marketing materials, email signatures, and even business cards.
Simply pick a name that aligns with your brand, and use that name as your key identifier on LinkedIn. Keep it personal, stay away from company URLs. To change the URL simply go to the 'Contact Details' section of your profile and click on the URL link to the bottom left of the section.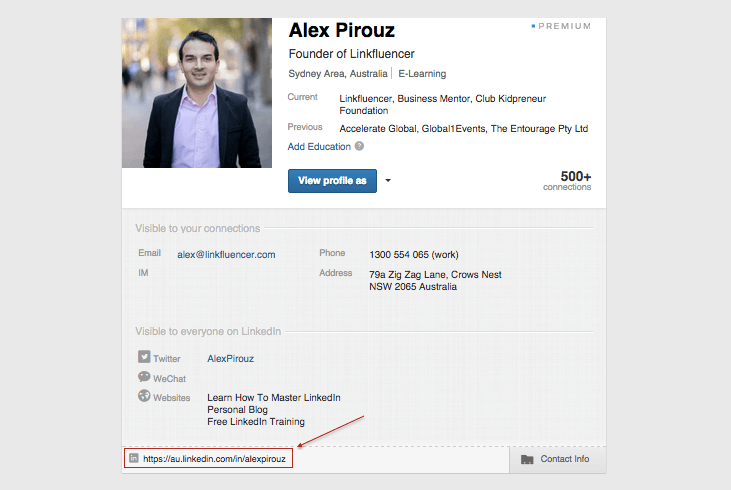 2. Turn your Experiences into a Professional Story
Consumers love stories. They are relatable, allow for an emotional connection and can differentiate your brand against your competitors. Most people will look at their experience section as an extension of their resume. However, the experience section is a great opportunity to tell your story.
Did you know that you are the only person that has your set of unique experiences? No one else has the exact experience as you, and approaching this section as a way to tell your unique story will help you build your personal brand on LinkedIn.
Make sure to highlight areas of your experience that are consistent with the brand image you want to portray. Tell the story in such a way that captures your audience, relates to their needs and supports your overall branding goals.
To learn more about how to write compelling stories and in particular profile summaries, click here to read more! In the article, we share 3 essential tips for a killer LinkedIn article.
3. Create an Outstanding Headline
Your headline is one of the first areas a viewer sees when they land on your profile, and it is also one of the highest optimized areas of your profile for keywords. Most people use this section as a place for their job title, but in fact, it is the best place to catch a potential prospect's eye! Be creative and brainstorm ways to make this area memorable, while staying true to your personal brand.
Do not forget that the keywords you use in the headline will be weighted heavily in LinkedIn's search algorithm. The stronger your keywords, the greater chance you have of ranking high when prospect conducts an advanced search using LinkedIn.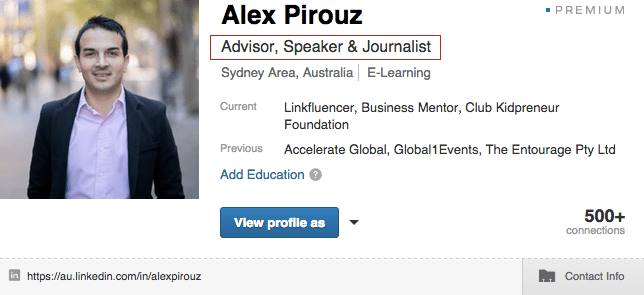 4. Showcase Examples of your Work
Over the past year, LinkedIn's platform has been constantly improving which means you have very few limitations on what you can share. Links to previous work, websites, videos and publications all can be shared with the summary and work experience sections.
The key is to choose content that will identify with your audience. When building your personal brand, pick and choose the content that supports your audience's best interests.
The more you publish, share and upload specific content that is relevant to your brand and audience, the more credible you become. Here's an example of a few things our founder Alex Pirouz shared within his profile.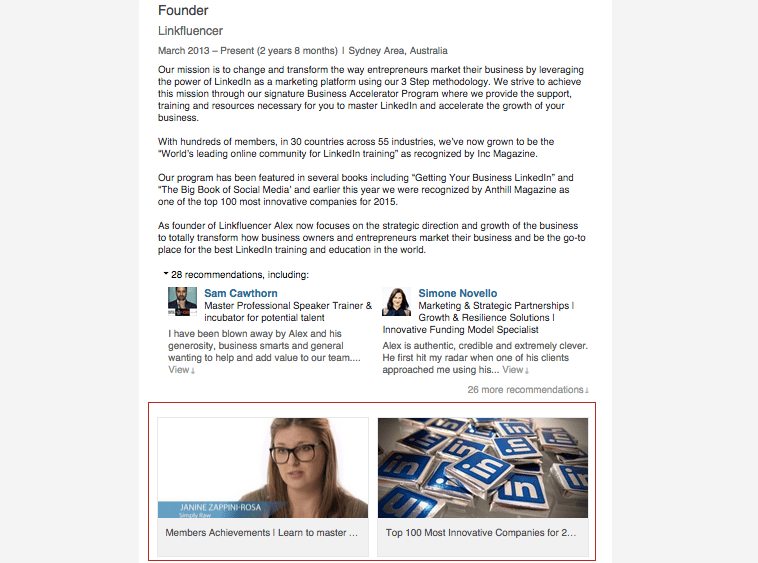 5. Be a Specialist, Not a Generalist
Back in 2012, LinkedIn launched a feature called Endorsements, which enables users to endorse their connections for skills they've listed in the Skills & Endorsements section of their profile — or recommend one they haven't yet listed. These endorsements then show up on your profile within that same Skills & Endorsements section, as you can see in the screenshot below.
While you can have up to 50 skills displayed, 3-5 is generally a good number to list. In today's business world consumers only want to deal with specialists, so when you list too many skills it shows you're a generalist rather than a specialist. And most importantly make sure that the skills you do list are consistent with your personal brand and is solving your client's challenges, objections and creating you a unique difference in the market.
6. LinkedIn Profile Layout
LinkedIn also enables you to reorder the sections of your profile in any way you prefer. Over the past few years we've tested many different ways to structure a LinkedIn profile in order to reach optimum flow and consistency. In our opinion, the structure below is by far the most engaging and compelling:
a) Summary
b) Skills & Endorsements
c) Experiences
d) Volunteer
e) Honors and Awards
f)  Publications
g) Additional Info
h) Recommendations
i)  Groups
When in edit mode, simply hover your mouse over the double-sided arrow next to the Edit link for each section. Your mouse will turn into a four-arrowed icon, at which point you can click, then drag and drop to another position on your profile.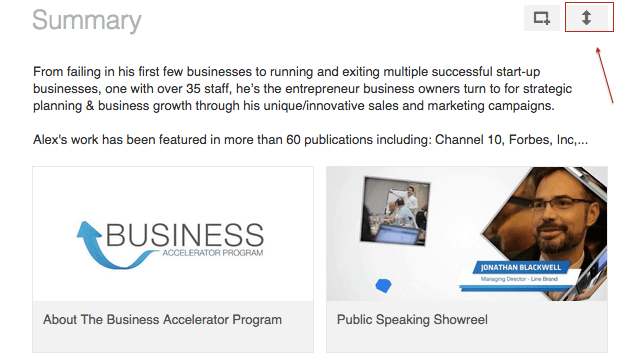 Having a compelling LinkedIn profile is paramount to your success on LinkedIn. It's your face to the online networking world and your first point of contact when promoting yourself to potential clients, joint venture partners, journalists and the business world.
The steps provided in this article are the fundamental steps in creating a compelling LinkedIn profile. Be sure to update your profile as you progress throughout your career.
Building your personal brand is something that takes time and consistency to achieve results. If you think you're not going to have the time to stay consistent then you need to either find the time or find someone who can implement on your behalf so you can begin investing in your most important asset – you.