One of the most important aspects of business is the relationships you build, whether it's with your team, your clients, or key stakeholders within the industry. Over the years, how we actually go about building these relationships has evolved quite substantially.
Traditional face-to-face meetings and regular networking functions are no longer as good as they used to be. Most of them are not targeted, time-consuming, expensive, and more often than not, filled with people trying to pitch you their services instead of actually networking.
In today's day and age it's all about how we can do business faster, smarter and more effectively. With over 3.8 billion people using social media and 61% using it specifically to network or meet new people, it's no wonder why everyone has shifted their attention online. No matter who you're looking to connect with, there's a social media platform out there to help you get in front of that audience. 
If your audience is B2B, there's no better plan than LinkedIn. With over 660 million members and over 50% of them being key decision-makers, it's a great platform for any business looking to find, connect and start building relationships with their target market at scale.
Combine this with the effects that the recent pandemic has had on how we all do business, there's never been a better time to leverage LinkedIn then now. As more and more people work from home and become accustomed to developing relationships online, user engagement and intent are at an all-time high. If you're still finding the transition from offline to online networking challenging and looking for a clear process to doing it successfully through LinkedIn, below we've broken down for you an easy 2 step process you can follow.
1. Who To Target

First things first, you need to think about who you want to target and what your outcome is when building those relationships. Is it to develop joint venture partnerships, generate new business, get in the media etc.
Start to think about the position, industry, location, company size and seniority level of the people you want to connect with. So for example if your target market are Lawyers in Melbourne who own their own legal firms, your client avatar might look something like this:
Position: Owner, Principle, Founder, Managing Director
Industry: Legal Services, Law Practise
Location: Melbourne, Australia
Company Size: All sizes
Seniority Level: Owner, CXO, Partner, Director
Once you know that, then look at your sales process and get clear on how LinkedIn ties into your overall process. For example, if you're selling a coaching program, maybe the purpose of your conversations is to take them offline into a quick call or online meeting. 
The purpose of that meeting would be to get to know the prospect and their business to establish whether or not there's a good fit. If so, you might run a free strategy session to dive deeper into their business and talk more about how you can help them bridge the gap from where they are to where they want to be through your service offering. This is just one example, every business is different and unique in the way they sell their services, so look at yours and identify the best way to take these conversations offline.
2. How To Implement

Now that you know who you want to target, how this fits into your overall sales process and the platform you need to use to find them, it's time to put a plan in place to get in front of that audience. To do this you will need a tool called 'Sales Navigator'. This is a premium feature that allows you to drill down from the millions of users to a specific audience you want to find, connect and start building a relationship with. 
It also allows you to engage with your target market's content before you reach out and connect with them even if you're not already connected. To do this all you need to do is save the leads within the search you created. Sales Navigator will then create a secondary news feed inside of your account where you'll be able to find and engage with your prospects content. 
This feature alone is worth the upgrade, when you combine this with sending out personalised invitations and following up those who connected but didn't respond, it's a very powerful trio. This process is averaging our clients anywhere between 10-15 conversations per week and a connection acceptance rate of 35-40%. 
You can sign up for a free 30 day trial through this link. Once you've subscribed, all you need to do is click on 'All Filters' and from the drop down menu select 'Lead Filters'.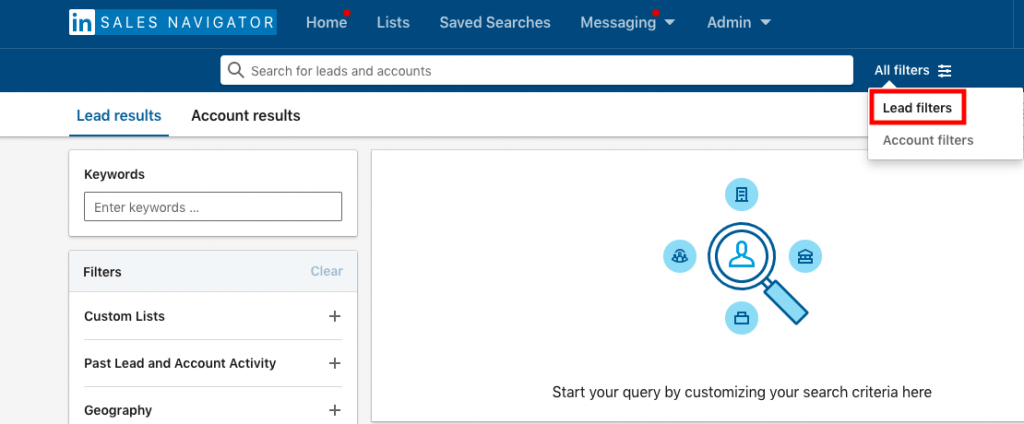 From there, simply input the metrics you flushed out in step 1. When doing so make sure to only select 2nd and 3rd degree contacts so that the list doesn't include those who you're already connected with.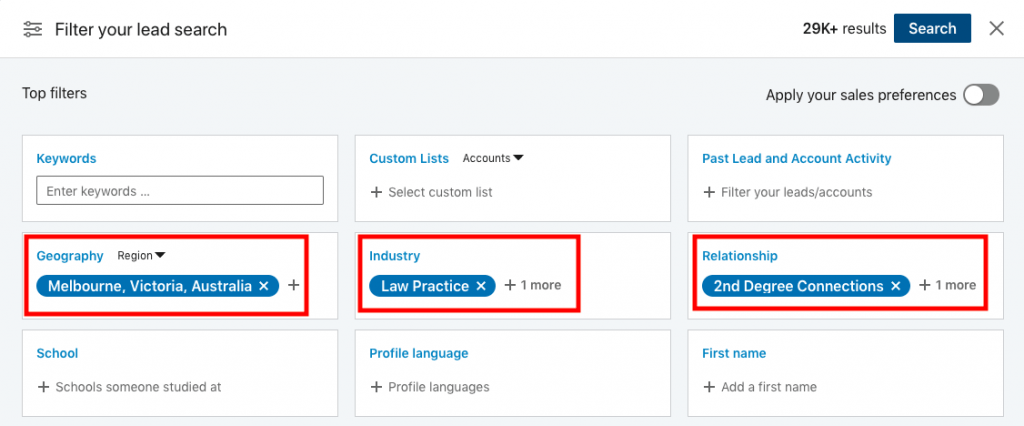 Once you've done this hit search. This will bring up a curated list of your target audience that you can start connecting with.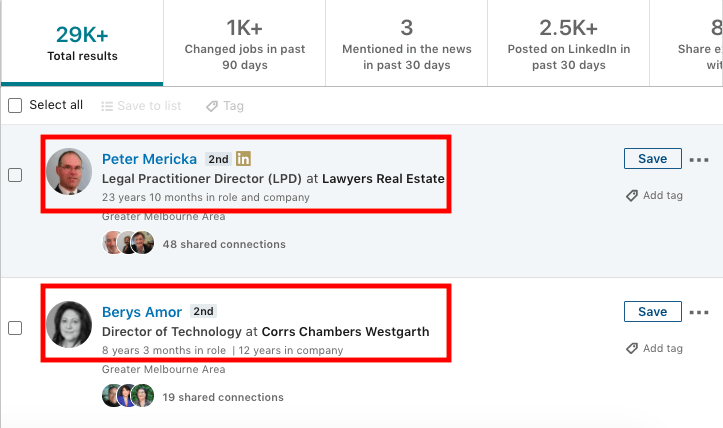 From here start sending out 50 – 75 invites a day to these prospects with a custom personalised invitation script and then follow up with a private message to those that have connected, but not replied to your invitation. This is so you can start conversations with your target audience, whilst building up your network of target leads. 
At this point you want to make sure that you're on top of the conversations that are opening up and replying back to them as soon as possible. If you need help with how to start a conversation and develop them into an offline meeting check out this blog article. 
And if you're contemplating whether or not to use tools online to automate this process, don't. Not only are they prohibited on LinkedIn but they're also prone to errors. 
Building relationships with prospects online is no different to how you would connect with prospects offline at networking functions or events. Sure the process is much faster and far more effective, but the principles are very much the same. Establishing a true connection and developing that into a relationship takes time, patience and consistency.