This month, LinkedIn surpassed the 800M member mark, further stamping their dominance as the most powerful networking platform in the world. 😎 As their membership numbers continue to soar month in month out, there's one area that most members just aren't taking advantage of, that's publishing content.
With only 3M members sharing content weekly, that's less than 1% of the entire network who net in 9 billion impressions. Whether you're looking to build your influence, get your message heard or grow your following, there's never been a better time to do that on LinkedIn than now. 👊 However, this won't be the case forever.
As more and more members start publishing content, your reach will naturally decline as LinkedIn looks to spread the 'attention' on the platform across more users. So whether you're feeling stuck, don't know where to start or need some structure in place to publish content more consistently, grab a coffee and your notepad because below we've written a step-by-step guide on how to flush out your content ideas and develop a system that ensures you post consistently. 👇
Step 1
First, you need to set the right expectations. Too many people start their content marketing journey with lofty and unrealistic outcomes, setting themselves up for disappointment and ultimately quitting before they even get started. 😞
Building your following and getting real engagement on your posts won't happen overnight, contradictory to what some people may say. The very first post our founder (Alex Pirouz) published got 3 likes, and for the first few months he barely had any engagement.
But he stuck at it, consistently putting up good quality and targeted content that he knew his audience wanted to see and read. Because of that, he now has over 46,000 followers and gets great engagement in most of his posts.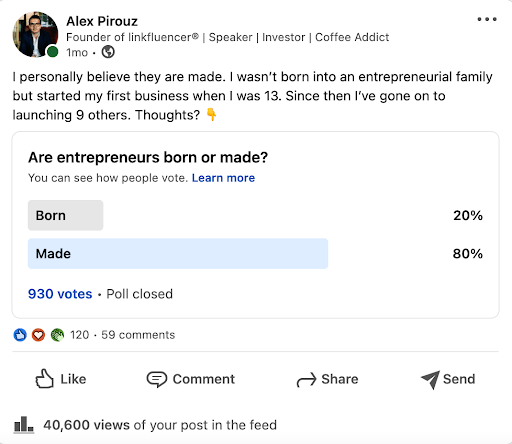 You can develop all the content ideas you want, but if you don't consider your strategy to be a long-term game, you'll lose patience before it even takes off. Rome wasn't built in a day, the same can be said for content.
Step 2
Once you've set the right expectations, it's about deciding on the area you want to be known for. Too many people make the mistake of putting up content that is not aligned to their core expertise or personal brand.
As a result, the content they post doesn't really connect with their target market, making it very hard for them to get any real engagement or reach. So, before you start flushing out your ideas, get clear on the area of expertise. 🤔
For example, if you're an accountant, then perhaps your focus should be accounting and taxation. If you're a marketing agency then your area of expertise could be marketing, and the list goes on.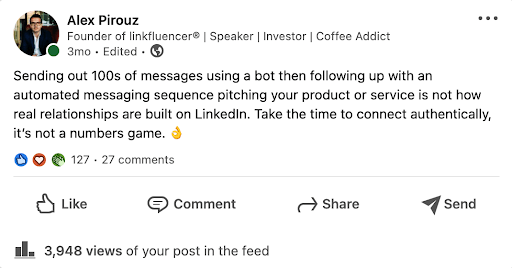 But it's not all about posting up content that is aligned to your area of expertise. Building influence on LinkedIn requires you to connect with your audience on a professional and personal level.
Doing this ensures that your target market buys into you on an emotional and intellectual level. This is why it's also important to think about topics you like talking about outside your chosen field.
For example, you might be passionate about personal development, family, and sports. Make a habit of talking about these topics along with your educational posts. When you do, make the post somewhat relatable to business or your professional life, this will help your audience get to know the person behind the content. 👍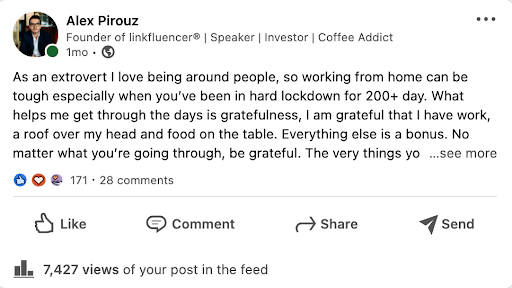 Step 3
Now that you know the type of educational and personal content you want to share, it's time to flush them out. To do this, you first need to decide how many posts you want to publish per week.
If you're just starting off, we recommend putting up one educational and personal content per week. This is more than enough to get going, when you're first starting off consistency is far more important than the number of posts you put up.
When you've decided on the number of posts, your next step is to block out some time in your calendar to flush out at least your first month's worth of content ideas. ⌛ How much time really depends on the number of posts you want to publish for that month. If we're going for the minimum of 2 per week, that would make it 8 posts we'd need to flush out.
Generally speaking, you would only need about two hours or so to flush those out. Once you've done this, pick a location that inspires you.
For some it's going to a look-out where there's no one around, for others it's going into the office on a Saturday and hacking away at it in the boardroom. There's no right or wrong location, you need to see what works for you.
From here, you need to start flushing out the ideas into stories you can use for your posts. To help, we've created this spreadsheet template you can download and use as a guide. 🤙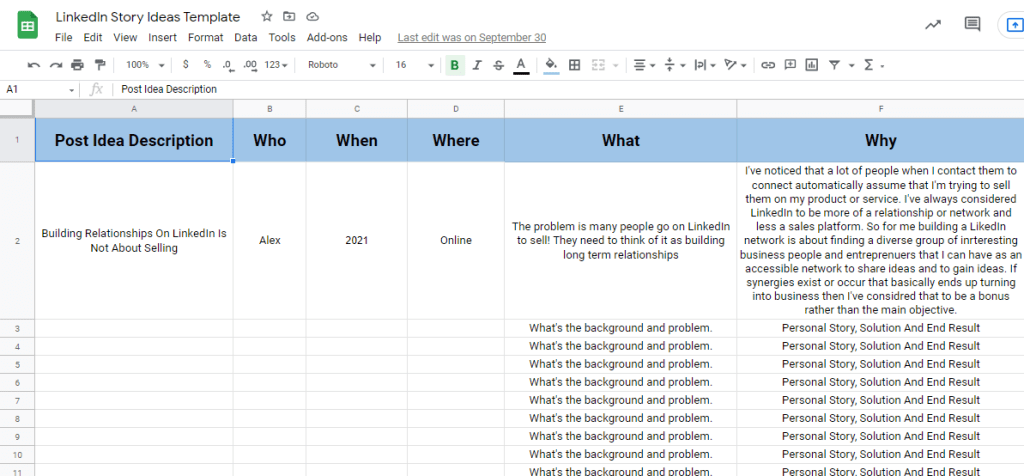 As you can see, there are two tabs:
1) Educational
2) Personal
Start by filling out the left-hand column with your ideas, once you've done that, you then need to work on the specifics of the story. From there decide the style of your post, what hashtags you want to include and when it's all written and posted on LinkedIn, you simply need to update the spreadsheet, so you can track what's been published or not.
So that you never run out of content ideas, continue adding to the spreadsheet anytime you think of a good post idea. That way, you'll always have a number of posts at your disposal to publish on LinkedIn. 💪
That's pretty much a wrap, now this goes without saying, but for this entire plan to work you need to make sure that you have a network of targeted contacts. There's no point developing all this great content, if it's not being seen by the right audience. If you need help, check out our software solution, Jayla.
It's an all-in-one marketing platform that not only helps you develop a high performing LinkedIn strategy, but supports you in managing your campaign, so you can convert more opportunities into sales. Inside your account you'll be able to set automated reminders, so you know which prospects to follow up, manage your sales pipeline through an in-built CRM and track your ROI with full end to end reporting.